Herb Seasoned Stuffing
This herb seasoned stuffing is so easy to make - try it once and you'll never buy a packet stuffing again.
Breadcrumbs take a minute to make in a food processor or liquidizer.
You can make up breadcrumbs out of stale bread and store them in your freezer. Two tablespoons will be the equivalent to one slice.

---
Herby Stuffing

4 slices of bread
fresh OR dried herbs
1 small onion, peeled and finely chopped
1 egg, beaten

It seems a lot of trouble, but you can make breadcrumbs out of bread you might throw out.
Stale bread is easier to crumb in your processor or liquidiser.
I use a liquidiser, because it's normally attached to my Kenwood Chef.
Take 2 slices of bread, break it into smallish pieces and process for a few seconds until it's fine crumbs.
Empty it into a bowl and then do another couple of slices.
If you're using fresh herbs, then you can add them to the processor to chop finely with the bread - if you're using dried herbs, then you can mix them into the breadcrumbs in the bowl.
I use about a tablespoon of dried herbs or a handful of fresh herbs - this should make it seasoned enough.
Finely chop a small onion and mix through the breadcrumb and herb mixture.
Bind together with one beaten egg - give it a good mix through, one egg should be enough.
It might look a bit dry at this point, but squeeze the stuffing together and it will bind.

At this point, you need to decide if you want to stuff your chicken, roll the seasoned stuffing into balls or put it into a baking tray.
If you stuff your chicken, then you need to add about half an hour onto the cooking time.
If you bake it separately in the oven, then 40 mintutes will make it nice and crispy.
If you try this once, you will never buy another packet of stuffing mix - personally, I would rather do without than buy a mix now. I look on making the stuffing as vital as cooking the meat and roast potatoes - not negotiable ;-) 
For a herb seasoned stuffing, try parsley and thyme, sage, rosemary (go easy on this as it's quite strong in flavour) - I love sage - either a handful of fresh leaves chopped or a tablespoon of dried.
Where would you like to go next?
The Herb Guide

›
Herb Recipes
› Herb Seasoned Stuffing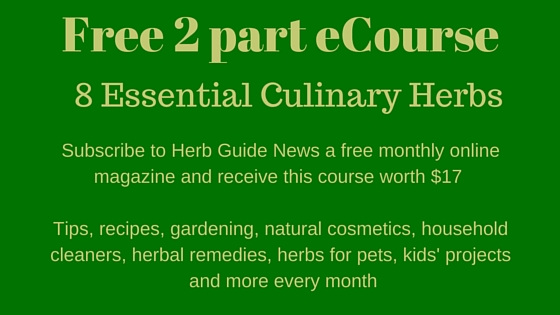 Some of the links on this site include affiliate links, providing the Herb Guide a small percentage of the sale at no additional cost to you. You are not obliged to use these links to make a purchase, but if you do, it helps to support this site.
---