Homemade Body Scrub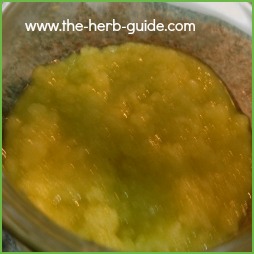 A homemade body scrub is so simple to make.
It can cost a fortune in the shops, but homemade cosmetics can be very inexpensive to make.
As you can see, this body scrub uses ingredients ready to hand in your kitchen or garden.

---
You will need

100g fine sea salt

50 ml olive oil

1 lemon

5 black peppercorns

Fresh herbs of your choice.

I've got a handful each of mint, sage and lavender.

Chop them roughly - just cut them with scissors into chunks.




Pour the oil into a pan. Add the herbs, lemon peel and roughly crushed peppercorns.

Mix thoroughly and heat gently for about 5 minutes.

Allow to seep for 30 minutes or so.

| | |
| --- | --- |
| Measure out the sea salt and put into a bowl. | |
Strain the herbs through a sieve.

These herbs are cut large enough to use a sieve - if they're finer cut, then you'll need to use muslin.




Pour the oil over the salt and mix it together.

Put it in a container - be cautious with glass as you will be using it in the bathroom.

Homemade cosmetics are simple and this body scrub is quite versatile - there are many different ways to make a body scrub - sugar as well as salt can be used.
Use it once a week after a bath or shower to exfoliate - just rub it into your skin in a circular motion, then rinse off. You'll need to soap yourself again afterwards and DO be careful when stepping out - you'll be oily and might slip.

Your skin will be beautifully soft and scented.
Homemade gifts are always appreciated - buy a nice jar to put this in and make up a bigger quantity using the 100g/50ml ratio.

What would you like to see next?
The Herb Guide

›
Natural Cosmetics
› Homemade Body Scrub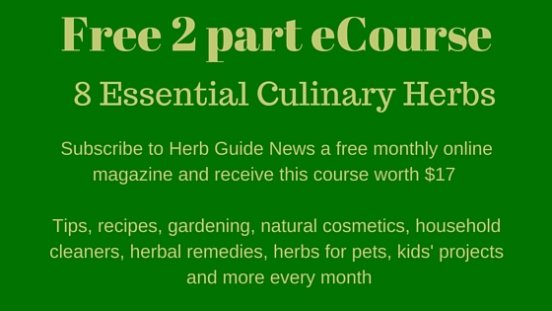 Some of the links on this site include affiliate links, providing the Herb Guide a small percentage of the sale at no additional cost to you. You are not obliged to use these links to make a purchase, but if you do, it helps to support this site.
Home
|
Contact
|
Sitemap
|
About Me
Herb Guide TV

---