Hello
Happy New Year to you - I hope 2014 will bring you joy and happiness.
This is the Armchair Gardening Season - sit in front of the fire, gardening catalogue in one hand, drink of your choice in the other.
Plan, dream, imagine what you're going to grow this year, staying dry and warm...
Wake up!!!!
Don't think you have to buy new seeds every year - the suppliers will give you a 'best before' date, but they are often wrong.
Last year (2013) I found a packet of dwarf green bean seeds in my shed which were packed in 2007 and recommended being used by 2008.
I tested 10 of them and got 100% germination...
I also got pounds of beans off the plants - the supplier would have liked me to throw the seeds away and buy new ones.
Not likely!!
Follow the link on the photo to see how you can test old seeds to see if they're viable.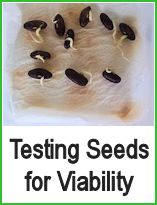 OK - so that's this month's newsletter - hope to see you next month.

If you have a question or comment, then please email me - I get lonely working from home :-)

It's lovely to hear from you and I thank you all for your emails – it never ceases to amaze me that people are out there on the internet want to talk to me!

Join our Facebook page if you 'do' Facebook – it's a way of keeping in touch instantly and there are over 4300 members in our little community. Click on this link to be taken through. Drop in and introduce yourself :-)

So that's it for now - if you have any questions, then please contact me.

Bye for now

All the best

Regards

Liz
---
Recent new and updated pages can all be found on the Herb Guide Blog.


I have written an eCourse 8 Essential Culinary Herbs which I am giving away to people who subscribe to my newsletter.

If you have not yet downloaded this, then please go to this invitation page and complete the form to get your copy delivered to your inbox.

If you have any questions or comments, then please go here.


That page is for public comsumption - if you want a private email, then use the contact page on the navbar.

I would love to hear from you.