Hello
I hope that you are well.
Having finished my book about bees, I am wondering if I've given it the wrong title. Please read on and give me your opinion - there's a thank you in it for you!
For everybody who responds, I will give you the 150 bee friendly plants guide and there will be an extra something for the winner.
I've called my book 'Herbs to Attract Bees' and it has all the herbs that are known to be particularly good for bees, cultivation tips, little interesting snippets, culinary, cosmetic and medicinal uses.
How to make the remedies, cosmetics and preserve herbs, with step by step instructions and photos and information about over 150 other plants which bees love.
It has an introduction, explaining about the problems bees are facing - why we're partially to blame and how we can make a difference - urban bees are doing better than country bees because of the diversity of planting, so each little bit helps.
There are nearly 60 full color photographs illustrating the book.
I've finished with a Gardening Glossary, explaining all the terminology in the book, expanding on the techniques so that nothing is unexplained (I hope!) things like taking cuttings, dividing, earthing up - the foreign language that experienced gardeners talk amongst themselves - you will now know what they are talking about!
It's available as full color paperback or Kindle version and has already attracted some excellent reviews. Those of my friends who have bought it, say it's fabulous - just the sort of book they like with great information and things to make!
Now - the problem is, although there is a huge amount of 'buzz' about bees at the moment,my book isn't attracting anywhere near the attention it should.
I was showing the book to a friend of mine the other day and she said 'Oh, I wouldn't want to attract bees, I'm frightened they'll sting. I know we need to help them, but I wouldn't want them near my house.'
Well, that got me thinking - maybe that's why it's not doing as well as I hoped - so - your input please.
Should it be for instance 'Herbs to Feed Bees' or 'Help Bees' or 'Bee Friendly Herbs'??
Click on the photo below and it will take you to the page which gives a fuller explanation of what the book is all about.
I will give away a hardback copy of my book to the person who comes up with what I believe is the best answer to this question. So please, respond with your regular email address as I will be using that to contact the winner and get details.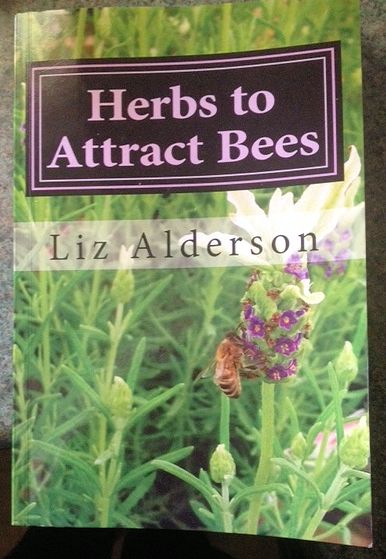 OK - so that's this month's newsletter - hope to see you next month.

If you have a question then please email me - I get lonely working from home :-)

It's lovely to hear from you and I thank you all for your emails – it never ceases to amaze me that people are out there on the internet and want to talk to me!

Join our Facebook page if you 'do' Facebook – it's a way of keeping in touch instantly and there are over 4300 members in our little community.

Click on this link to be taken through. Drop in and introduce yourself :-)

So that's it for now - look forward to hearing from you.

Bye for now

All the best

Regards

Liz
---
Recent new and updated pages can all be found on the Herb Guide Blog.


I have written an eCourse 8 Essential Culinary Herbs which I am giving away to people who subscribe to my newsletter.

If you have not yet downloaded this, then please go to this invitation page and complete the form to get your copy delivered to your inbox.

If you have any questions or comments, then please go here.


That page is for public comsumption - if you want a private email, then use the contact page on the navbar.

I would love to hear from you.