Hello
I hope you're well - end of August already!
A short newsletter this month.
I have just two things to talk about - two things and a question for you.
First of all, my new book, 'Herbs to Attract Bees' is nearly ready for publishing.
I've loved the research and writing of it and I hope you'll enjoy reading it as much.
It will be ready to publish in a month or so, just in time for the armchair gardening season!
The photo below is my proposed cover - not a live link.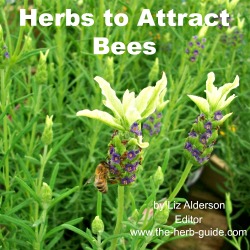 As well as the herb growing and care instructions, there's culinary, medicinal and cosmetic uses covered under each entry.

A 'Gardener's Dictionary' with explanations of the terminology, growing seeds, testing seeds for viability, taking cuttings, earthing up, damping off etc.

A section on making oils, butters and preserving herbs for convenience or winter use. My favoured method is freezing but there are instructions for drying as well.

How to make herbal remedies, teas, tisanes, tinctures, decoctions, compresses. salves and vinegars and when to use each one.

Tables, divided into seasons of over 150 trees, shrubs, climbers, bulbs and flowers which are attractive to bees – many of them evergreen and so double value plants.

A resource page on the website of suppliers of beeswax, oils and other related products needed to make the herbal remedies which can be difficult to find in the shops. This will be split into countries as well.

I just have one problem – I would like to publish for Kindle, but Amazon don't currently support tables – when you're dealing with the categories of flowering season, color, nectar or pollen and some helpful notes, tables are the easiest way of reading that information.

I could just present a simple list with a code beside whether the plant provides pollen, nectar or both, but I felt it was really useful to know colors, months, evergreen etc.

I've also read recently that they've stopped supporting images, which is going to be a huge problem as there are photos of the herbs and other images.

I've tested the pdf file on my own Kindle and it works perfectly, but Amazon doesn't support the pdf – do you think it would be acceptable to have the tables as a 'bonus' where you download them at my site and then email them to your computer, Kindle, iPad or other tablet?

What do you think of that as a solution?

I'd love to hear your opinions about that – I would give exact instructions of how to find your Kindle email address and how to download and email yourself a copy, so don't let the technical side of it influence you. I'll make it on a page that you can print off in black ink only, so you can tick off each step as you do it.

Oh sorry – I said this was going to be short!

OK then – the next bit is about cooking with herbs.

For those of you familiar with the-herb-guide.com, you will know that I have a recipe section. My other love is cooking! Here's the link - there are over 60 (and growing) recipes there for you to browse and use at your convenience.

I do hope you enjoy them – if you have a specific recipe you're looking for, then please email me.

It's lovely to hear from you and I thank you all for your emails – it never ceases to amaze me that people are out there in the internet.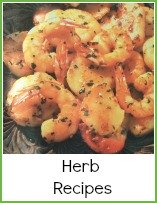 Join our Facebook page if you 'do' Facebook – it's a way of keeping in touch instantly and there are over 4200 members in our little community. Click on this link to be taken through. Drop in and introduce yourself :-)

So that's it for now - if you have any questions, then please contact me.

Bye for now

All the best

Regards

Liz
---
Recent new and updated pages can all be found on the Herb Guide Blog.


I have written an eCourse 8 Essential Culinary Herbs which I am giving away to people who subscribe to my newsletter.

If you have not yet downloaded this, then please go to this invitation page and complete the form to get your copy delivered to your inbox.

If you have any questions or comments, then please go here.


That page is for public comsumption - if you want a private email, then use the contact page on the navbar.

I would love to hear from you.