Hello
I hope you're well - March already!
I've had an email recently about growing mint.
Growing mint is easy - stopping it taking over the garden is what's difficult.
What I normally do is sink it into the bed in its pot, then every month or so, give the pot a twist so as to loosen any runners your plant may be sending out.
Click on the thumb below to read more about it.
A trending topic at the moment is natural diuretics.

Parsley tea is very effective and gentle - however, it's one to avoid if you're pregnant.

The link below tells you about parsley tea and also gives you a link to pages about which herbs to avoid if you're pregnant.

Don't get too concerned - culinary quantities are unlikely to do you any harm.
Last but not least is a chamomile rinse for your hair.

It will lighten your hair over time, but it leaves it lovely and shiny and smelling pretty.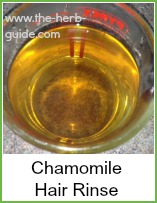 One final thing - if you'd like to join The Herb Guide's Facebook page, you can ask questions directly and keep up to date with new pages as they're added.

There's nearly 4000 members, so come and join us Click on this link to be taken through. Drop in and introduce yourself :-)

So that's it for now - if you have any questions, then please contact me.

I'll see you next month - I have a tutorial prepared which shows you how to test if your old seeds are still viable.

Bye for now

All the best

Regards

Liz

Liz
---
Recent new and updated pages can all be found on the Herb Guide Blog.


I have written an eCourse 8 Essential Culinary Herbs which I am giving away to people who subscribe to my newsletter.

If you have not yet downloaded this, then please go to this invitation page and complete the form to get your copy delivered to your inbox.

If you have any questions or comments, then please go here.


That page is for public comsumption - if you want a private email, then use the contact page on the navbar.

I would love to hear from you.