Hello
I hope you're well - April already!
I've been reading about the plight of bees which is affecting the majority of the world.
I saw a funny which had a picture of a bee sat exhausted on the ground, holding a sign up saying 'I'm Hungry, Plant Flowers' and it got me thinking.
My Lavender buzzes with bees - Lemon Balm is commonly called 'Bee Balm' and I began to put together a list of which herbs will attract bees.
Farmers are practicing 'mono-culture' which is giving bees a feast for a few weeks, they increase their colonies and then all of a sudden, after harvest, there's nothing for them to feed on and they starve because they can't move on quick enough to find more food.
They're also using large scale pesticides so that they get the maximum crops - these are killing bees as well as killing the wild flowers which bees love.
They're dragging out hedgerows to maximise crops and also so they can turn their big machinery.
We're not helping either - our demand for housing is encroaching on the countryside, we're using paving and decking to keep the garden 'tidy' and we're not gardening in the same way.
Click on the photo below to read more about it.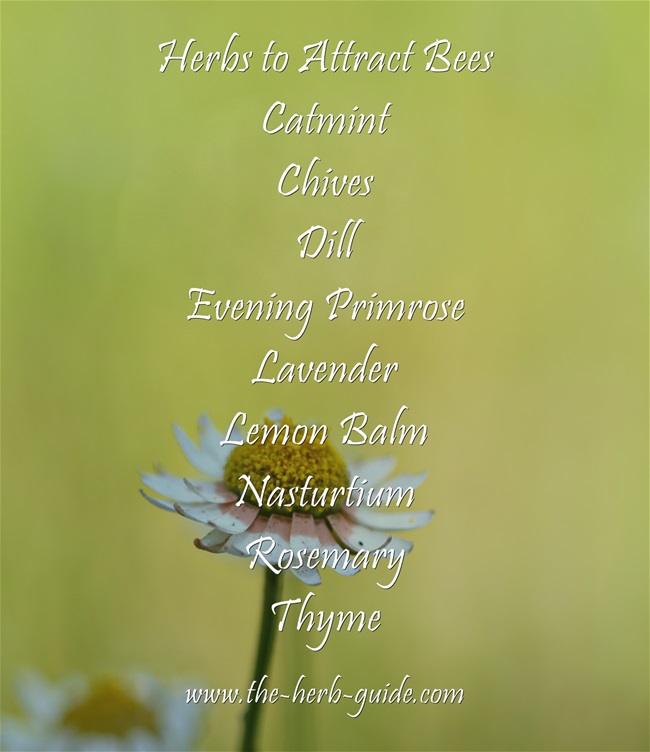 The advantages of growing these herbs is that you're going to get yourself a selection of really useful culinary herbs, many of which have the added benefits of medicinal and cosmetic uses.

Lavender for instance - flavor summer drinks and desserts, add to pot-pourri, make sachets for the cupboards, a relaxing bath, homemade body scrub, ease headaches, the list goes on.

It's not an exhaustive list of herbs which bees find attractive - as you can see, there are some listed on the infogram that aren't linked on the page, although they are on the site, there's some that are not on the infogram but are on the site.

I just felt that as it's planting time in the Northern Hemisphere and the situation's pretty urgent, I decided to put this to you sooner rather than later and 'tidy things up' later.

One final thing - if you'd like to join The Herb Guide's Facebook page, you can ask questions directly and keep up to date with new pages as they're added.

There's over 4000 members, so come and join us Click on this link to be taken through. Drop in and introduce yourself :-)

So that's it for now - if you have any questions, then please contact me.

Bye for now

All the best

Regards

Liz

Liz
---
Recent new and updated pages can all be found on the Herb Guide Blog.


I have written an eCourse 8 Essential Culinary Herbs which I am giving away to people who subscribe to my newsletter.

If you have not yet downloaded this, then please go to this invitation page and complete the form to get your copy delivered to your inbox.

If you have any questions or comments, then please go here.


That page is for public comsumption - if you want a private email, then use the contact page on the navbar.

I would love to hear from you.