Food as Medicine 
As an Amazon Associate I earn from qualifying purchases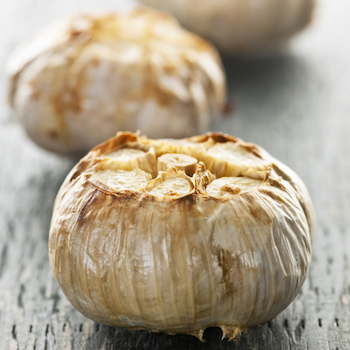 Food as medicine is not as silly as it sounds.  Herbs and spices can help you maintain your health when you add them to your food - you've no need to drastically change your diet. 
Health is more than the absence of illness or disease. It's an overall feeling of wellbeing. 
I've used herbs and spices in my cooking for forty years and am very rarely ill.  My son is the same - he's reached 29 years of age and has only ever had minor childhood ailments. We've been fortunate for sure, but I do believe that there is a connection between what you eat and how you feel and food as medicine is a 'real thing'. 
Think about how you feel after pigging out on fatty, sweet or processed foods (I've done it!) You feel lethargic, sleepy, nauseous, generally uncomfortable. I don't know about you, but after the first few mouthfuls, I'm eating just for the sake of it and possibly didn't really enjoy it. I'm thinking about eating the whole bar of chocolate scenario, when a few squares would have been enough. Or continuing to raid the cupboard when you've got 'the munchies'. 
You see food *does* affect how you feel, consider the opposite, how it can make you feel good and heal you. I'm not talking 'diet' food here, but normal everyday meals enhanced with herbs and spices.
If you follow the 80/20 rule of eating well 4 out of 5 times, you won't go far wrong and won't need to feel like a party pooper if you're out with friends and fancy letting your hair down. 
---
Food as Medicine - herbs 
Here are some of the herbs you could use in cooking - see what their medicinal properties are:
Garlic: there are nearly thirty actions attributed to garlic, but mainly it's antimicrobial (kills bacteria or prevents them from attaching to cells) antifungal, antiviral,  detoxifying and has been used for over 2000 years by Ayurvedic doctors (ancient Indian medicine) for heart disease.  It increases circulation and helps to reduce blood pressure, it lowers harmful cholesterol and triglyceride levels. 
You need to avoid large doses during pregnancy or if you're taking warfarin or blood pressure medication. It can irritate the skin and aggravate gastric problems. 
Two or three cloves in your cooking a few times a week would be perfect. Aim for a bulb a week perhaps. 
You can make a garlic and mint bug spray as a natural insecticide. It works exceptionally well.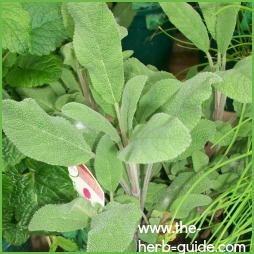 Sage: antibacterial, antiviral and anti fungal. Good for colds, flu  and associated sore throats. It's a decongestant, supports the nervous system, helpful for anxiety, stress, assists in digestion particularly of fats. It supports the liver and pancreas and may be helpful in lowering blood sugar levels. 
Sage is one of my personal favourites - I make a cough medicine with it (some people prefer thyme) and I use it in cooking several times a week. The link here goes to a thyme cough medicine recipe (it was most popular, so that's what I demonstrated)  I always think of sage as my 'herbal alter ego'. It's my soul mate. It wraps me in its warm embrace when I feel a cold threatening. I make a sage tea, add a spoon of honey  and my symptoms disappear. 
Thyme: aids with digestion, stimulates the liver, relaxes the gut (good for IBS, colic etc) antimicrobial, is an old established method of treating intestinal worms and nits (top and tail!), increases circulation, expectorant for coughs, antiseptic, anti fungal, anti-inflammatory. The list is pretty extensive. It can be used in liniments, as a gargle, hair rinse, inhalant to relieve blocked sinuses. Add it to vinegar and sniff if you get a nervous headache.
Thyme makes a great household cleaner too mixed with vinegar. 
Food as medicine - colours
It's a massive topic, far too great to go into on one page, but overall. Look for a variety of colour in your food. 
Think reds, oranges, yellows, purples to add to the more usual whites and greens. 

I normally cook from scratch five or six days a week. In most meals, I have onion, bell pepper and tomatoes - either cooked in my recipe or chopped raw as a salad. Two or three times a week, I make up a box of salad for the refrigerator and add a couple of tablespoons as a side dish to my curry or chilli. The coolness from the fridge with the heat from the onion and pepper is a taste explosion. 
I make a salad dressing using apple cider vinegar - another of nature's wonders. It contains live cultures beneficial to digestion. It's high in potassium which supports metabolism and the nervous system. It can be very helpful achieving a acid/alkaline balance in the gut. 
I add spices - I love curries, so use fresh ginger, fresh or ground turmeric, coriander, cumin, cayenne, coriander, black pepper.  I also love chilli which is chilli powder, cumin, cayenne, garlic salt, onion salt and black pepper. Black pepper is very good for you - it improves the digestion and blood circulation and is anti-microbial. I put pepper on most things. 
I will go into these things in much more detail over time, but this is my little introduction and I hope it gets you thinking how you could prevent illness rather than have to cure disease just by adding some herbs and spices to your cooking. You don't have to set out to make any drastic changes - just add a bit of spice, vinegar or some herbs to your daily diet. 
Dried are normally equal in compounds to fresh - it does depend what you're doing, but for culinary purposes, they're fine and most certainly better than no herbs at all. 
Some of you will know that I am embarking on a five year BSc degree in Herbal Medicine starting September 2019. I have herbal medicine qualifications, but there's nothing 'legal' in those. I have shied away for many years now on giving anything other than general information about herbs and their actions. The website has veered more towards growing and making things but food as medicine is something I feel passionate about. 
This 'food as medicine' section is about to grow as I go through my  course. Please, get in touch if you have any specific questions. I can't diagnose for you over the internet, but I can certainly point you in the right direction.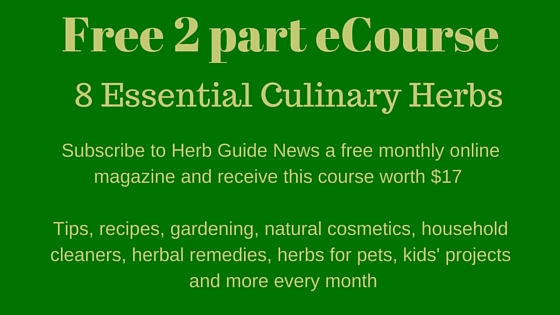 ---
I may receive a commission if you purchase something mentioned in this post. See more details here