Hello
Merry Christmas
Just one recipe this month - how to make sage and onion stuffing for your turkey.
I promise, that you will never want to buy a packet again after you've tried this!
Click on the turkey photo to get the recipe.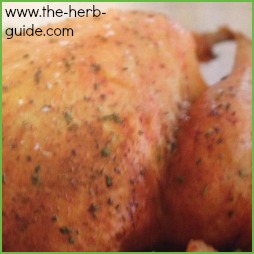 If you have a specific recipe you're looking for, then please email me.
It's lovely to hear from you and I thank you all for your emails – it never ceases to amaze me that people are out there in the internet want to talk to me!
Join our Facebook page if you 'do' Facebook – it's a way of keeping in touch instantly and there are over 4200 members in our little community. Click on this link to be taken through. Drop in and introduce yourself :-)
So that's it for now - if you have any questions, then please contact me.
Bye for now
All the best
Regards
Liz
---
Recent new and updated pages can all be found on the Herb Guide Blog.


I have written an eCourse 8 Essential Culinary Herbs which I am giving away to people who subscribe to my newsletter.

If you have not yet downloaded this, then please go to this invitation page and complete the form to get your copy delivered to your inbox.

If you have any questions or comments, then please go here.


That page is for public comsumption - if you want a private email, then use the contact page on the navbar.

I would love to hear from you.