Herb Garden For Kitchen Window
Herb garden for kitchen window - if you're a dedicated cook then this would be very handy.

The books all say to grow your herbs as close to the house as you can - so that you can cut and use them quickly.

You can't get much closer than a herb garden on your kitchen windowsill.
---
Miracle-Gro Aerogarden with Gourmet Herb Seed Kit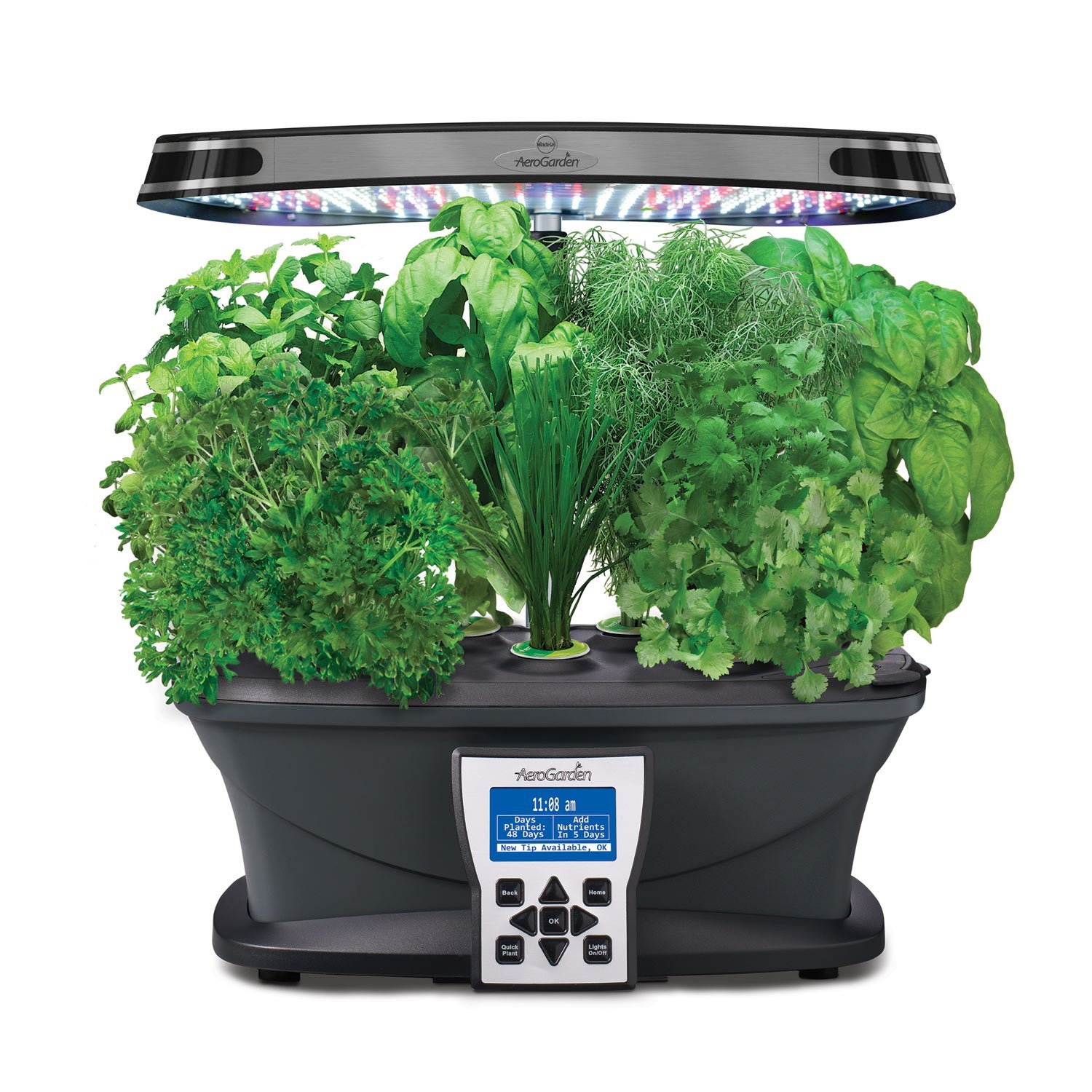 Indoor herb gardening is becoming very much the rage these days. You can just snip a few herbs off the stems, grab a tomato or chop a chilli while you're cooking. 
The indoor gardens look gorgeous in the house too with their lush green foliage and gentle background light.
The most trusted name in the market is Miracle-Gro and their flagship is the 6 (UK) or 7 (US) pod model - click on the flag to find them for your country. 
---
You'll have to decide which herb varieties you need the most - how long is a piece of string? How wide is your kitchen window? What do you cook most?
Look at the top three to five herbs that you use most often and grow those indoors on your kitchen window sill all year round.
Basil is a good herb to grow - it's a mainstay for culinary use and it keeps flies away, which is a definite bonus in your kitchen - good old basil...
I have a metal tray with five metal containers on it - in those I grow  parsley, chives, sage and 2 pots of basil - the four herbs that I use the most.
I cook a lot of pasta with tomato sauces and make pesto (basil) use parsley in sauces and scattered over a lot of things (it's the taste of summer and to be able to snip it regularly is a real luxury) and sage leaves to make stuffing regularly - at least twice a week with roast chicken or pork joints or steaks.
In addition, I use sage for medicinal purposes in the winter - cough medicine, sore throats.

Coriander is a good choice if you cook Asian food regularly and chives are another good choice as their delicate onion flavour doesn't overpower other foods.
The thumbnail picture in the right column will lead you to the pages about growing the individual herbs and there is a section about growing indoors on each page.
I like a mini herb garden in my kitchen window - it's good for the winter, when it's dark or raining and cold - it means you can use them easily, so it makes sense to grow the herbs you use the most and as many as you have room for in your indoor herb garden.
What would you like to see next?
The Herb Guide

›
Growing Herbs
› Herb Garden for Kitchen Window
Some of the links on this site include affiliate links, providing the Herb Guide a small percentage of the sale at no additional cost to you. You are not obliged to use these links to make a purchase, but if you do, it helps to support this site.
---

---

Join our Facebook page to get regular updates
---