Growing Herbs Indoors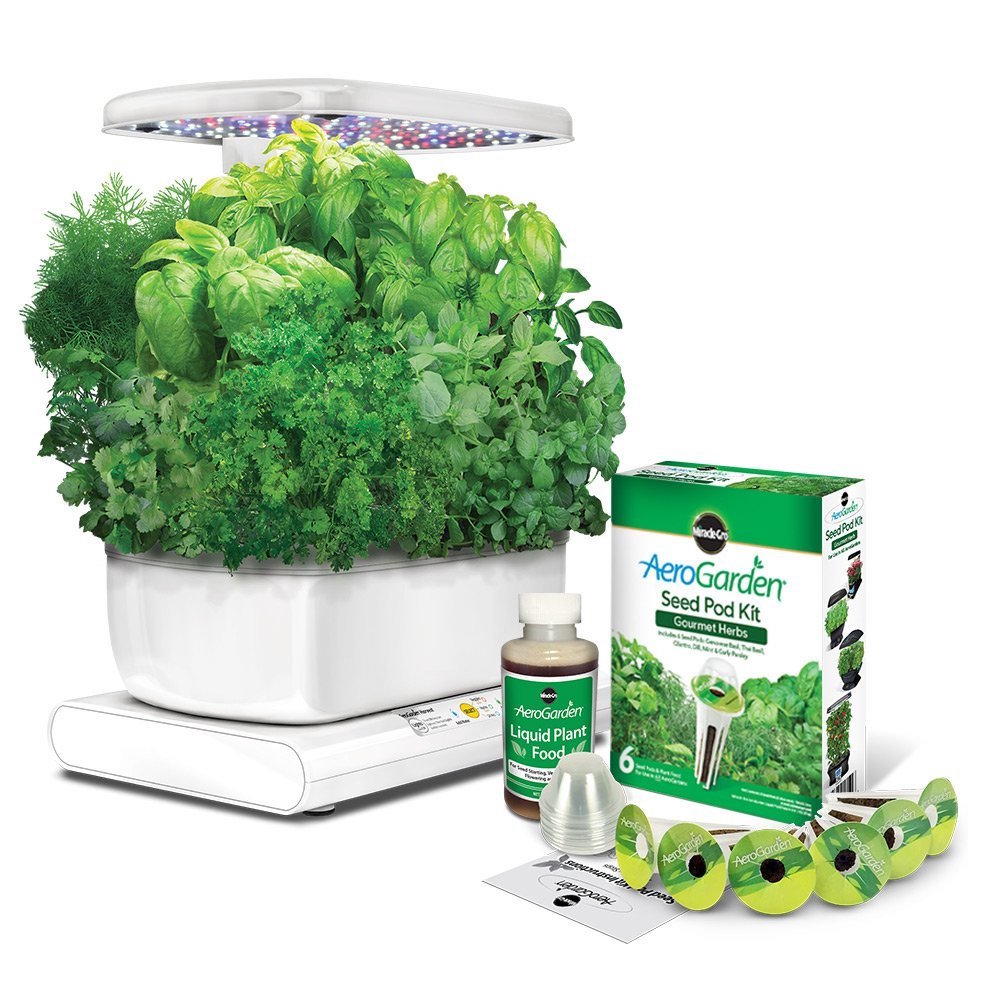 I have finally got round to buying a fabulous Aerogarden for growing herbs indoors.
My kitchen is so tiny,  that I felt I didn't have the space for one, but I so wanted one that I bought it anyway - now I've got to decide where to site it.
Look at the photos of my tiny, dark kitchen and you'll see that you can make room for an Aerogarden if you want to.
---

You can try a sample lesson to help you decide if the Herbal Academy of New England is the right choice for you - click the link below.
Preview Lesson from the Introductory Herbal Course
---
I really wanted to put it in the far left corner, where the white pottery bread bin and my cooking utensils are, but the electricity supply is by the toaster.
I thought about pinning the lead to the underside of the cupboards, but the heat rising from the oven and hob would have damaged it in time. I thought about trailing the lead behind the hob and just unplugging it for the time the hob was in use.
I really wanted to put it there, so it was a focal point that I could see from the hall and as soon as I walked in I would have that lovely light and see luscious herbs growing.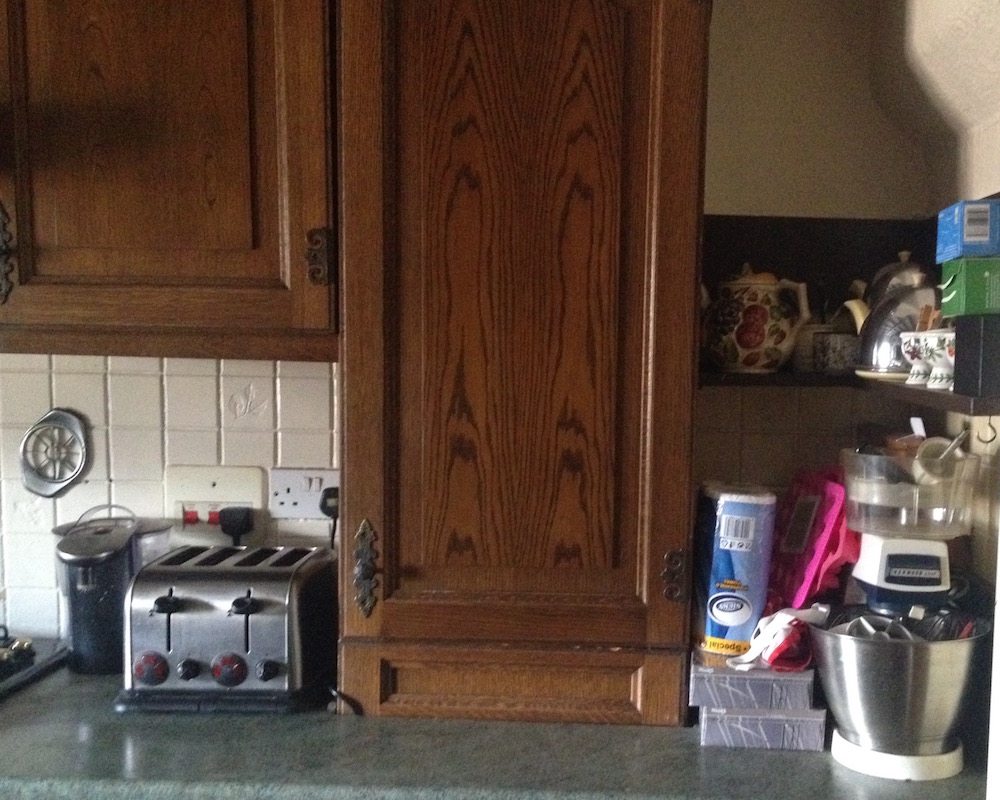 This space on the right hand side however, has become a bit of a storage area. It's not an attractive space at all. There's kitchen roll and tissues stuffed there, some silicon moulds and my Kenwood Chef, which is rarely used as it's such an effort to move it and  use it.
It made much more sense to put the Aerogarden there. I measured the gap to make sure there was enough clearance under the shelf for when the light was extended to its full height - that needs to be 17 inches and there was loads of room.
I moved the spare paper things to the understairs cupboard and pulled the Kenwood Chef out and put it on the counter on the opposite side of the kitchen. I celebrated by making a cake later!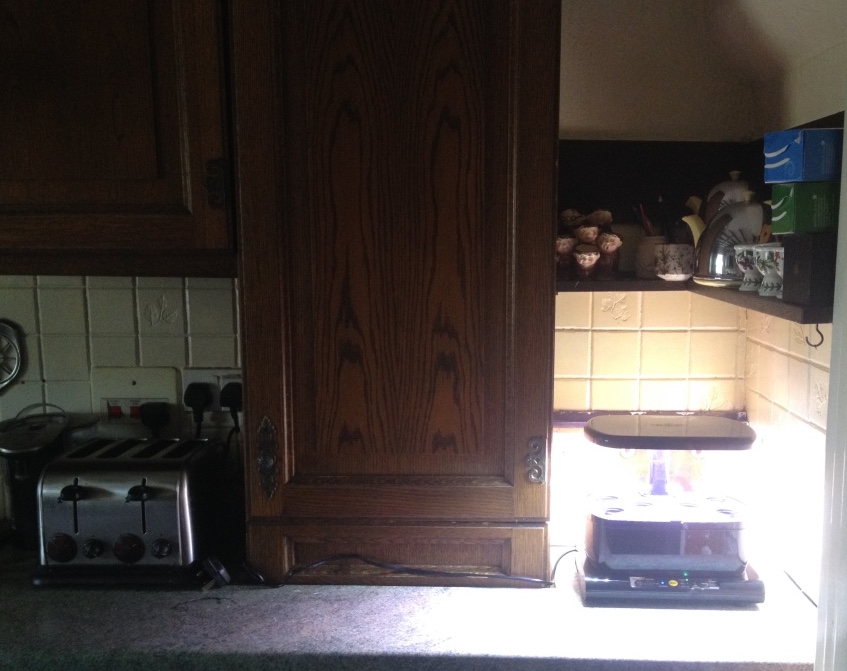 So, here we have it - my fabulous Aerogarden switched on and ready to go. A dead spot has now been put into good use.
It's already brightened up my kitchen which is very dark as there is no outside window, the window looks onto the utility area built across the back of my house and consequently I don't have enough natural light to grow anything beyond an odd pot of herbs that I'm cutting at. I don't have room right beside the window as there is no sill - there's only a four inch gap behind the sink - so anything has to be put in that area near the pottery bread bin - there's just not enough light for things to grow healthily for any period of time.
I am going to grow loads of herbs in this - I shall cut them regularly and freeze or dry them for using later and to keep the plants growing as long as possible. I'm going to grow herbs to make teas as well - peppermint for sure and by regularly cutting the peppermint back, it should keep it in check and it won't rampage and suffocate everything else.
I've got Cilantro (Coriander) in the starter kit and I shall make Carrot and Coriander soup - Basil - loads of pesto, Dill, Mint, Thai Basil and Parsley.  I am so excited about getting this Aerogarden and can't wait to start growing herbs indoors.
Growing Herbs Indoors - more ideas
I may receive a commission if you purchase something mentioned in this post. See more details here  This will not affect the amount you pay.