Natural Cosmetics

Natural cosmetics have to be better for your pocket and the planet than spending a fortune on manufactured goods.
---

You can try a sample lesson to help you decide if the Herbal Academy of New England is the right choice for you - click the link below.
Preview Lesson from the Introductory Herbal Course
---
Natural Cosmetics
They may take a little time to make but once you're into the swing of it, you'll save yourself a lot of money and have the satisfaction of producing something without commercial chemicals.
For instance, rosemary oil for hair will promote growth and thickness, help cover up the grey and give you a wonderful shine and condition.
For a few pence and a bit of patience, you can make your own soap, shampoo, bath salts, breath freshener and hair products.
Body scrubs made with sea salt or sugar are really simple and the different herbs and oils you can use are endless.
I love making them - I make enough to last a month - about 4 or 5 applications which is 100g salt to 30mls oil.
Check the prices of these products in the shops. They really do cost a fortune and they're often full of preservatives - they have to be to make them 'shelf stable'. You'll know exactly what you're putting on your body if you start to make your own and save a load of money in the process.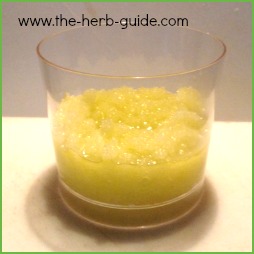 Most of the things necessary will be in your kitchen cupboard or garden – the rest of the ingredients are readily available at the supermarket or garden center.
Making essential oils is beyond most of us – it involves steaming and distilling with a lot of equipment and the majority of us wouldn't want to bother – but to take a few sprigs of fresh herbs, bruise them and steep them in olive, almond or jojoba oil takes a few minutes.
You leave the mixture for up to 4 weeks to get the properties from the herbs and at the end of it, you have an oil that can be used in a similar way to any essential oil you pay a lot of money for.
You can make bath bombs, hand cream, natural skin care, lip salve, soap, shampoo and treatments for your hair – there are countless alternatives to buying manufactured beauty products.
Some of them are ready for immediate use, some need a little patience but once you get started on the route of making natural cosmetics and make up, you will be hungry to try more.
Where would you like to go next?
I may receive a commission if you purchase something mentioned in this post. See more details here  This will not affect the amount you pay.