Growing Herbs For Profit
As an Amazon Associate I earn from qualifying purchases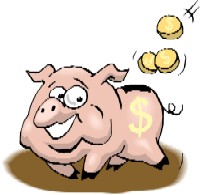 Growing herbs for profit is very easy providing you are focussed and organised.
Herb seeds are cheap - a bag of compost is cheap - seed trays are cheap and most herbs germinate quickly.
---

You can try a sample lesson to help you decide if the Herbal Academy of New England is the right choice for you - click the link below.
Preview Lesson from the Introductory Herbal Course
---
There are certain pitfalls - you need to remember that your seed trays will eventually need transplanting into pots.
The space for the plant pots will far exceed the space your trays took up!
The best way to try it out is to start off your own herb garden and offer the surplus for sale.
If you don't manage to sell any, at least you have the plants for yourself.
You will need for each herb you plan to grow:-
Growing Herbs From Seed
Packet of seed
Seed tray
Seed compost

OR
Growing Herbs from Cuttings
Stock plant
Seed tray
Coarse sand
Rooting hormone powder

You will also need plant pots to transplant the seedlings and some more compost.
Follow the instructions on each of the above pages for growing herbs.
Then - comes the organising/focus part of growing herbs for profit.
You will need to maintain your plants growing - checking daily to make sure that they are well watered, clear of weed and in good condition - you want to sell them and need to bear in mind what you look for when you're buying a plant - reproduce that and you won't go wrong.
You will need to find a market.
That can be a garage/yard/car boot sale.
Or approach nurseries, cafes, restaurants or shops locally.
To begin growing herbs for profit, you could do worse than advertise a sale from home.
Put a board in your front garden 'Herb Plants For Sale Saturday Morning 10 am to 12 noon' and leave it there for a week or so. 
Then, on the day, put up a table with your herbs for sale and wait...
Or if you go to a car boot sale, take a table, your herbs in boxes and set them out and wait...
Herbs sell very well - people love fresh herbs and if your plants are in excellent condition, people will pay good money for them. If you're knowledgeable about them, that's even better. 
---
Growing herbs for profit - give yourself the edge
Give yourself an advantage above others by creating little care sheets that you can copy and give out to your customers. A bit of detail about how best to look after the herb, where to place it in the garden, how big it will grow, how to use it and a recipe for cooking with it. 
---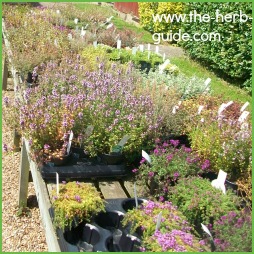 As to how much - well, have a look at the local shops, supermarket, garden center, nursery or wherever you find herbs on sale and look at the prices.
Keep a record of how much your trays, seeds, compost, pots etc cost you - add up how much you've taken in sales - and the difference is yours - growing herbs for profit has a bottom line.
Your first year will give you an idea of the potential - I bet you sell out of herbs if you have produced good, healthy plants that look cared for.
The only limit then is to how much space you have - and your time.
Growing herbs - growing any plant - is a commitment - you can't expect your neighbour to look after your plants if you go away, nor will you be able to put them in a bath of water - not at this level.
So if you want to grow herbs for profit, you may have to either give up your holiday if it cuts into the season or find somebody reliable and pay them to look after your plants while you're away.
Growing herbs for profit can be as big or small as you like – the good thing about it is, that it's easy to 'test' before you invest too much.
If you enjoy it, then it's fantastic to be able to make a profit out of your hobby – it's not work…
What would you like to see next?
I may receive a commission if you purchase something mentioned in this post. See more details here  This will not affect the amount you pay.