Lavender Shaving Cream
As an Amazon Associate I earn from qualifying purchases

Make this lavender shaving cream to use yourself or give as presents. 
I'm often asked 'what can I make for guys?' - there's all sorts of products that you can make for your girlfriends, but not much to make for the boys. This super creamy shaving cream will fit the bill for a guy gift. 
Give a lovely big pot of it - it'll be shelf stable for around six months - with a shaving brush and a new razor all in a shaving mug. Or make it for the ladies as it's just as good for shaving legs, armpits or neatening up other bits of straggly hair that you don't want to see. 
Using soap can disrupt the pH balance of the skin and this soap free shaving cream recipe uses nourishing natural ingredients which are much kinder. You will know exactly what's in the recipe, no nasty artificial stuff added as preservatives or fillers to make the more expensive ingredients go further. 
It doesn't look a lot to begin with, but once you start the whipping, it increases in volume. I use a stick blender as it is much quicker and easier - I did try a hand whisk (see the photo) but that was really hard work and shortly after I took the photo,  I plugged my electric stick blender in! It took just a couple of minutes to whip up in subsequent batches I've made as I didn't make the mistake of using a hand balloon whisk again...
Can be used for guys or gals - face, pits, legs or anywhere of your choice - but make sure you wash your hands between dipping ;-)
---

You can try a sample lesson to help you decide if the Herbal Academy of New England is the right choice for you - click the link below.
Preview Lesson from the Introductory Herbal Course
---
Make Lavender Shaving Cream
Ingredients
2/3 cup Shea butter
2/3 cup Coconut oil
1 teaspoon Almond oil
10 drops tea tree oil
10 drops lavender essential oil
Method
Melt the shea butter and coconut oil in a pan over a low heat. Stir in the other oils.
---
Pour into a large bowl and refrigerate until solid.
Take the mixture out and allow it to come to room temperature.
Whisk until light and fluffy. You can use a hand whisk or electric whisk.
Use it sparingly like an oil rather than lather it on like a foam or soap.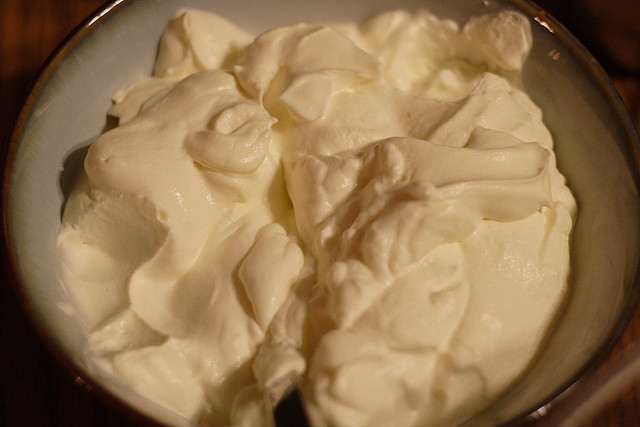 What would you like to see next? or go to the  Lavender Issue of the Herb Guide eZine
I may receive a commission if you purchase something mentioned in this post. See more details here  This will not affect the amount you pay.