Chives Picture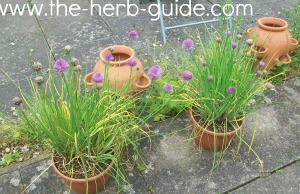 This chives picture shows a lovely lush green growth of the herb and will help you identify it.
They are very useful, having a delicate onion flavor which doesn't overwhelm the taste of other foods.
You use them by simply snipping the long leaves into pieces with scissors or chopping with a knife.
---
Miracle-Gro Aerogarden with Gourmet Herb Seed Kit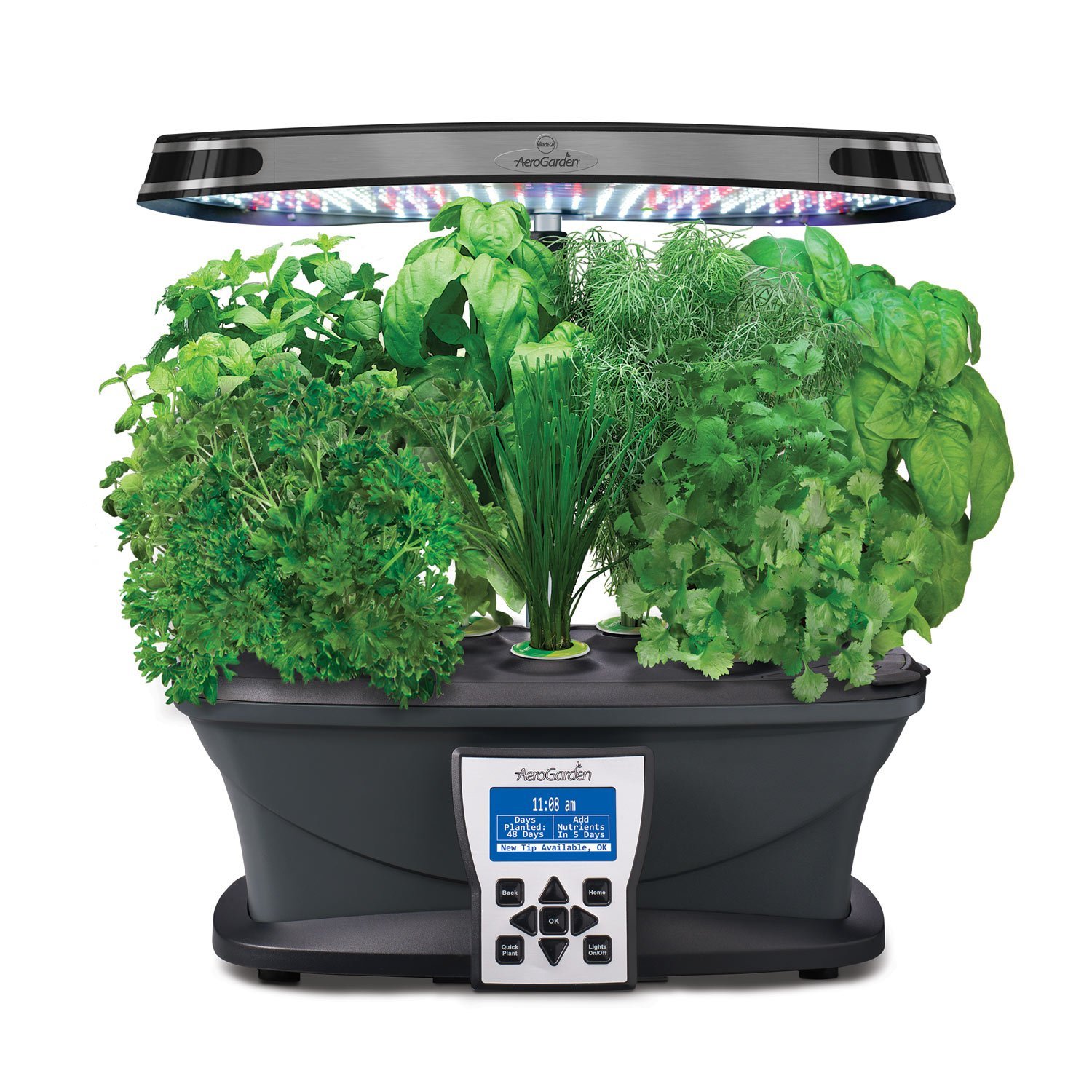 Indoor herb gardening is becoming very much the rage these days. You can just snip a few herbs off the stems, grab a tomato or chop a chilli while you're cooking. 
The indoor gardens look gorgeous in the house too with their lush green foliage and gentle background light.
You can grow flowers and buy blank pods to select your own seeds. 
The most trusted name in the market is Miracle-Gro and their flagship is the 6 or 7 pod model - Click on the photo or here to find out how to
set up an Aerogarden
programme the lights for optimum growth - it's not what you think!
find space in even the smallest kitchen
choose which kit to buy or whether you need the blank pods
trim the herbs to allow slower growing ones to catch up
preserve small quantities of herbs by drying or freezing
and much more
---
This picture shows the chives with their purple ball shaped flowers - some people use them to decorate their food.
The picture also shows how decorative they are in the garden - a really lovely display in a seating area - imagine being sat in the garden surrounded by pots of herbs.

Mix them in with cream cheese to give a delicate onion flavour - use this to make a sandwich or celery boats where you cut 2 inch lenghts of celery and fill them with the cream cheese mixture - makes a good buffet finger food.
Snip a few over roasted vegetables for the last 5 or 10 minutes of cooking to add some extra flavour.
Chives are very easy to grow.
You can grow them from seed or beg a few bulbs from a fellow gardener whose clump has got overcrowded.
The chives in this picture (above) were a pot I bought and split into 2 - they've been growing about 3 years.
The chives picture below is garlic chives.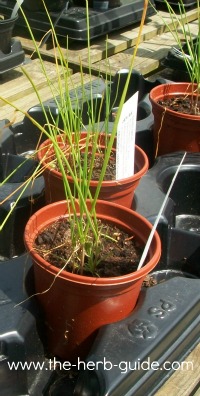 If your clump of chives has become weed infested, then you need to dig it up and tease the bulbs apart.
Do this gently, removing the weeds as you go.
You then replant the chives in clumps, firm down the soil with your foot and water well.
They are hardy perennials and will come up year after year.
Divide them when they get overcrowded - you can either replant them in your own garden or pot them up and either give them away or sell them.
See growing herbs for profit for more ideas of what herbs you could grow for general sale.
Where would you like to go next?
The Herb Guide

›
Herbs
› Chives Picture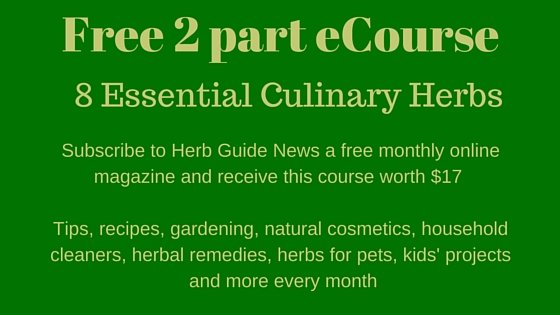 Some of the links on this site include affiliate links, providing the Herb Guide a small percentage of the sale at no additional cost to you. You are not obliged to use these links to make a purchase, but if you do, it helps to support this site.
---