Chives Recipe
Cheese and Potato Bake

As an Amazon Associate I earn from qualifying purchases

This chives recipe is for a Cheese and Potato Bake.
It is such a great one pot recipe. Use ordinary or sweet potatoes,  or a mixture of the two.
For the cheese, you need something crumbly such as Wensleydale or Cheshire but any type or mixture will do.
It's easy to put together and this recipe will serve four people as a side or 2 as a vegetarian main. As a main, serve with buttered green beans, broccoli, carrots - anything you like but add some colour - bright oranges or greens. 

---

You can try a sample lesson to help you decide if the Herbal Academy of New England is the right choice for you - click the link below.
Preview Lesson from the Introductory Herbal Course
---
Cheese and Potato Bake
1 tablespoon wholegrain mustard
300ml (1/2 pint) (2 C) cream or milk

3 tablespoons chopped fresh chives
200g (8 oz) (2 C) cheese - grated
800g (2lbs) (4 C) peeled potatoes 
black pepper

You need a 10in x 8in gratin dish (25cm x 20cm) greased.
Heat your oven to Gas Mark 4, 180c.
Put the mustard in a bowl and whisk in the cream or milk - stir in the chives.
Divide the cheese into 3.
Slice the potatoes very thinly - use a mandoline if you have one to get really thin slices.
Divide the potatoes into 3.
Layer the dish this way - potato, cheese 3 times and season with black pepper.
Pour the cream mixture over the whole dish.
Bake uncovered in the oven for about 40 minutes.
Test the potato to see that it is soft - if not, cook for a bit longer but cover the dish with foil so the top doesn't burn.
You can use fresh or dried chives - fresh use 2-3 tablespoons to taste - dried, use half the quantity.
You can add some cooked chopped bacon or ham if you like to ring the changes about 9oz (275g) will be enough.
Use a wholegrain mustard such as Dijon and you can use milk instead of cream if you prefer - the finished dish will be creamier if you use cream in this recipe.
Where would you like to go next?
Another great chives recipe is the Cheese Biscuits (Scones)
I may receive a commission if you purchase something mentioned in this post. See more details here  This will not affect the amount you pay. 

Potato and Chive Recipe
By Liz Alderson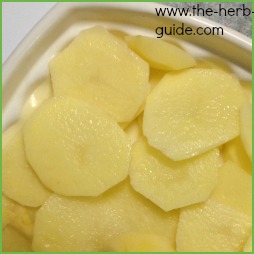 This cheesy, herby potato bake makes a great side or a main for a vegetarian meal - just make larger amounts and serve with buttered green beans, carrots and broccoli.
Prep Time: 10 minutes

Cook time: 40 minutes

Yield: 4

Main Ingredient: potato, cheese, chives