Garlic Mashed Potato
Garlic mashed potato is an excellent side dish for plain grilled or baked meat or fish.
Mashed or creamed potato is a wonderful side dish - it's so easy to eat - you need to cook the garlic before you add it to the mash. It doesn't need to be hot, so you can roast the garlic at any time you have your oven on.
By roasting the garlic, you'll get a nutty flavour to it that will really 
---

You can try a sample lesson to help you decide if the Herbal Academy of New England is the right choice for you - click the link below.
Preview Lesson from the Introductory Herbal Course
---
Roasted Garlic Mash Potato
3 large garlic cloves - skin on
2 lb (1.2 kg) peeled potatoes
1/4 cup/3 oz (75g) butter
3 tbspn milk

Heat your oven to gas mark 4, 160C.
Put the garlic in a shallow dish and cook until the skin is yellow and cracked - around 20 to 30 minutes.
Boil the potatoes for 15-20 minutes until they're soft.
Drain and mash with the butter and milk.
Squeeze the flesh out of the dried garlic skins into the mashed potato and stir through and that is basically it - roast the garlic, mash the potatoes, mix together and serve.
I would put a knob of butter on top to melt before serving - make a nice criss cross pattern with a fork and perhaps sprinkle some chopped parsley over.
Absolutely delicious as a side dish with plain meat or fish.
Roasted garlic is best as it gives a more mellow flavor.
If you pop it in the oven at the same time as you're cooking something else then it isn't so wasteful of power.
You could also use ready prepared garlic - you can buy it in tubes or jars - add a teaspoon and stir it through - see if it's strong enough and if not, add a bit more. You won't get that nutty flavour that you get with roasted garlic unless you buy a jar or tube of roasted garlic.
You could also peel it and add it to the pan as you're cooking the potatoes. If you do that, I suggest you retain the cooking water as it'll be the basis of a vegetable stock that you can use in other dishes or to make soup.
Where would you like to go next?
Garlic Mashed Potato
By Liz Alderson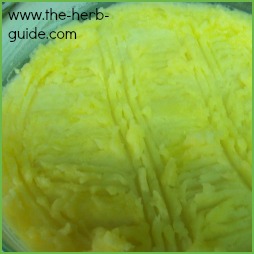 Roasted garlic mashed potato is so tasty and you can serve it with any plain fish or meat dish. By roasting the garlic first, you get a really nutty flavor.
Prep Time: 20 minutes

Cook time: 20 minutes

Yield: 4

Main Ingredient: potato, garlic
I may receive a commission if you purchase something mentioned in this post. See more details here  This will not affect the amount you pay.