Herb Potato Recipe
As an Amazon Associate I earn from qualifying purchases

This herb potato recipe is quick to prepare and versatile.
It's ideal with plain grilled meat or fish.
I like to add basil and tomatoes and serve this with a parmesan crusted fish or chicken.
So - for three or four people.
You can shallow fry or deep fry these. I use my Tefal Actifry to make mine - it takes a bit longer, but you don't need to stand over them. You can just set the timer and walk away.
---

You can try a sample lesson to help you decide if the Herbal Academy of New England is the right choice for you - click the link below.
Preview Lesson from the Introductory Herbal Course
---
Herby Potato Recipe
2 lbs (1 kilo) peeled potatoes
1 tbspn fresh (2 tspns dried) herbs
1 tbspn oil
Oil for frying

Mix the herbs into the oil and allow it to infuse a little whilst you prepare the potatoes.
Cut the potatoes into cubes.
First of all cut each potato into 1 cm slices, then cut into 1 cm strips, then cut again into 1 cm cubes.
If you look at the photo above, you will see the size of potato cube you want to end up with for this recipe.

Rinse the starch out and then pat dry on kitchen paper or a towel.
Pour the oil over them and mix well.
Heat your oil and add the potato cubes.
I prefer to shallow fry, but if you want to deep fry, then that's your choice.
You will need to shake the pan to keep the potato moving around.

Cook for about 25 minutes or until golden, crispy and cooked through.
Try parsley with fish, rosemary or mint with lamb, basil with chicken or tomato based dishes, sage with pork - this will depend on the recipe you're following.
The secret to getting crispy potatoes is to make sure they're dry before you put them in the pan.
This way, the outside seals quickly and the cubes absorb less fat.
The water on the surface cools the fat when it hits the pan - that's what makes potatoes 'spit'.
You can deep fry these or shallow fry them.
I have a fancy new fryer which only uses a tablespoon of oil and stirs the contents as they cook - it uses convection heat as well and gives the most fantastic results. It's a Tefal Actifry and I don't know how I managed without it!
I've written about it on my seafood site if you want to click here you can read about it.
Where would you like to go next?
Herb Potato Recipe
By Liz Alderson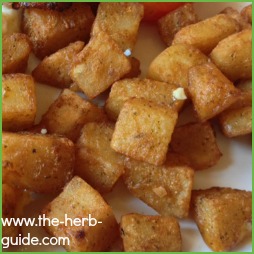 Really tasty herb potato recipe. These little crispy cubes of potato go well with just about anything. Deep fry or shallow fry - lovely.
Prep Time: 5 minutes

Cook time: 30 minutes

Yield: 4

Main Ingredient: potato
I may receive a commission if you purchase something mentioned in this post. See more details here  This will not affect the amount you pay.