Potato Salad
As an Amazon Associate I earn from qualifying purchases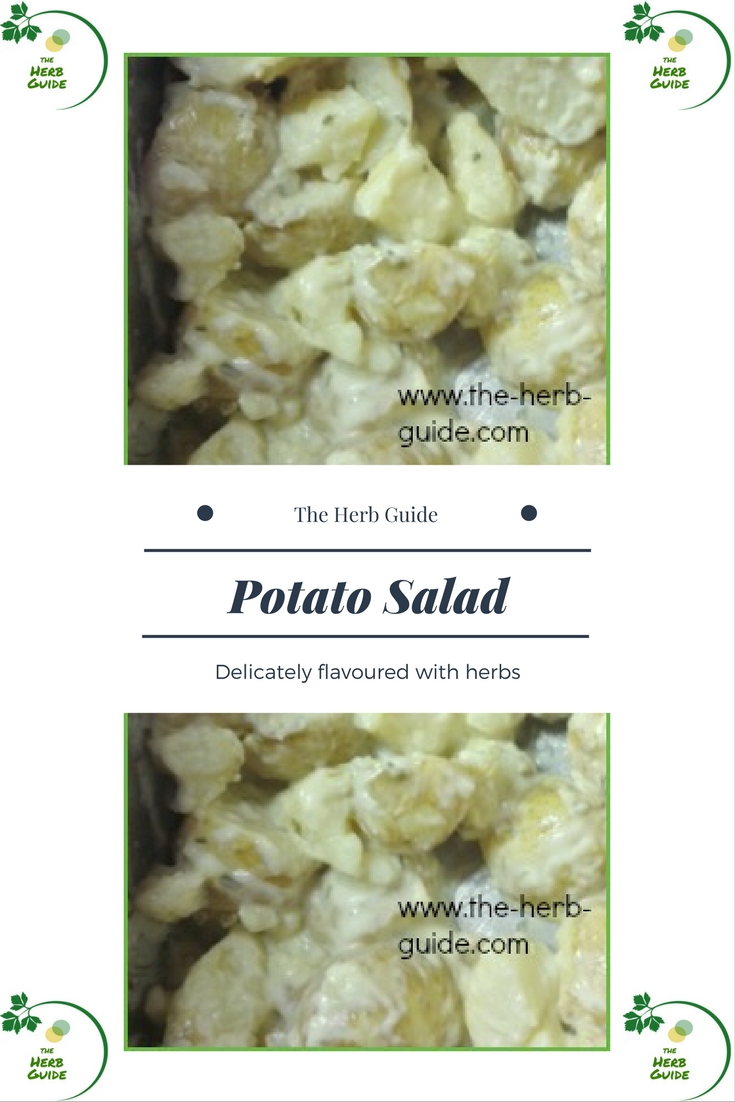 This potato salad recipe is one I use frequently as part of a buffet type menu.
The quantity here would serve about 8 to 12 people if it were part of a buffet, 4 to 6 people if it were a side dish.
It will keep covered in the refrigerator for two days. You can make up a big batch the day before your party, give it a stir before you serve it so that the sauce is distributed evenly again.
I normally snip chives into it, but see below for other choices.

---

You can try a sample lesson to help you decide if the Herbal Academy of New England is the right choice for you - click the link below.
Preview Lesson from the Introductory Herbal Course
---
Here's the basic recipe
1 kg (2.2lbs) salad potatoes
2 tablespoons mayonnaise
2 to 3 tablespoons milk
handful fresh chopped herbs

Boil the potatoes for about 20 minutes until tender - no need to peel them, just wash.

Allow them to cool, then cut into smallish dice. Put them into a large bowl - you'll need space to stir, so allow extra room or the contents will go all over the worktop!
Mix the mayonnaise and milk together - you want a coating consistency about like half (single) cream.
Stir the herbs into the mayonnaise mixture.
Pour the mix over the diced potato and stir it round gently.
Depending on what you're serving it with, try parsley if it's predominantly fish, but parsley will go with anything.
Basil if it's an Italian type meal with lots of tomatoes in it.
The chives are good with pork and chicken.
Mint with lamb.
Grate a little horseradish in if you're serving beef.
Use a salad type new potato for this dish - most supermarkets and grocers sell them in bags of 1kg around 2.2 lbs
The skins are quite tender and there's no need to peel or scrape them unless you particularly want to - I never do as I'm not into work!
If you want to serve it cold, then you'll need to prepare it at least an hour before you eat, as the potatoes will need to cool.
Where would you like to go next?
Potato Salad
By Liz Alderson
Such a versatile side dish. Serve it with a seafood salad or as part of a buffet meal. Great for parties as you can prepare it the day before and keep it refrigerated.
Prep Time: 10 minutes

Cook time: 20 minutes

Yield: 6

Main Ingredient:
I may receive a commission if you purchase something mentioned in this post. See more details here  This will not affect the amount you pay.