Minted New Potatoes

These minted new potatoes are super simple to prepare.
They make a great side for minted lamb or a summer salad - I love grated cheese as the heat from the potatoes melts the cheese!
You can cook them in an open pan, steam them or microwave. The choice is yours.
You can serve them cold and they taste equally good.

---

You can try a sample lesson to help you decide if the Herbal Academy of New England is the right choice for you - click the link below.
Preview Lesson from the Introductory Herbal Course
---
As you can see, the potatoes are quite dirty.
These are Kentish New Poatatoes which I bought from the farm shop - they were in the soil this morning! You can't get fresher unless you grow your own.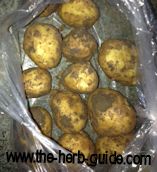 You need to clean them. I put them into hot water and use a pan scrub to get the dirt off.
You can wash them with your fingers if you want to retain all the skin - the pan scrub takes off some of the skin.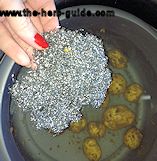 Here they are, nice and clean.
Remember to keep the pan scrub just for doing new potatoes or you'll end up with potato scrapings all over your washing up!
Cut them into even sized pieces.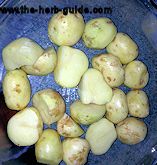 Put into a microwave proof bowl.

Some will remain whole and some will need to be cut down.
Add two or three sprigs of fresh mint to the top.
I cook these in a microwave - 1 pound (500g) takes 10 minutes on full power.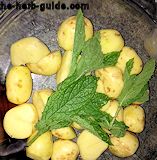 Allow them to rest for around 5 minutes to continue the cooking.
They will not go cold during this time - they continue to cook.
Put the point of a sharp knife into the potatoes to check they are ready - discard the mint.

Add some butter and chopped parsley prior to serving.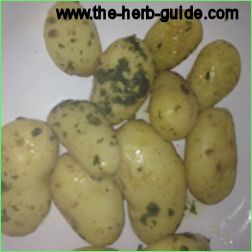 You can cook the minted potatoes in an open pan if you prefer or don't have a microwave.
Add them and the bunch of mint to one quart (1 litre) of boiling water and bring them back up to the boil.
Simmer for around 20 minutes until the tip of the knife goes in without resistance.
Drain and serve as before.

What would you like to see next?
Minted New Potatoes
By Liz Alderson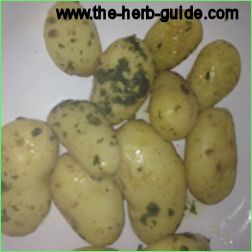 Minted new potatoes go with just about anything. Perfect with salads as well as main course meals. Ideal for buffets for people to help themselves.
Prep Time: 5 minutes

Cook time: 10 minutes

Yield: 4

Main Ingredient: potatoes, mint
I may receive a commission if you purchase something mentioned in this post. See more details here  This will not affect the amount you pay.