Container Herb Gardens
Container herb gardens are the perfect way to grow a selection of herbs.
It's handy to have one by the kitchen door.
Growing herbs in a container is a good way of giving herbs the kind of growing conditions they need.
It's also an effective way of containing invasive herbs, such as mint.
Watch this video to see instructions.
---
You can use a lot of things as container gardens - you don't have to spend a fortune.
Whilst there are some delightful, purpose built containers, a wicker basket would last at least one year and look very stylish.
Large terracota pots, tubs, long rectangular pots are all suitable - an old sink - check around breakers yards to find interesting containers.
An old wheelbarrow would be ideal - it would also mean that you wouldn't have to bend to pick your herb.
Use good quality potting compost mixed with some sand for good drainage when making the gardens.
A useful tip in the video is to cut up disposable nappies/diapers to act as water retainers, so the pots don't dry out - it's an excellent idea and one I intend to use when lining pots.
I would not put mint into your container gardens - it would very likely take over and overwhelm everything else that was in there - use a large pot for mint on its own.
Plant up the herbs you use most often - the link at the top right of the page here will take you to the growing index to see which varieties you might like.
Herb Guide News is my monthly online magazine which is free.
Every month, you get a focus herb or topic with other articles - natural cosmetics, remedies, pet treats and most issues a selection of quirky containers I've found - the wheelbarrow project in issue #3 is an example. 
Click on the photo to go to the page to put your name down to be notified when the next issue is ready - the back issues are at the bottom of the page.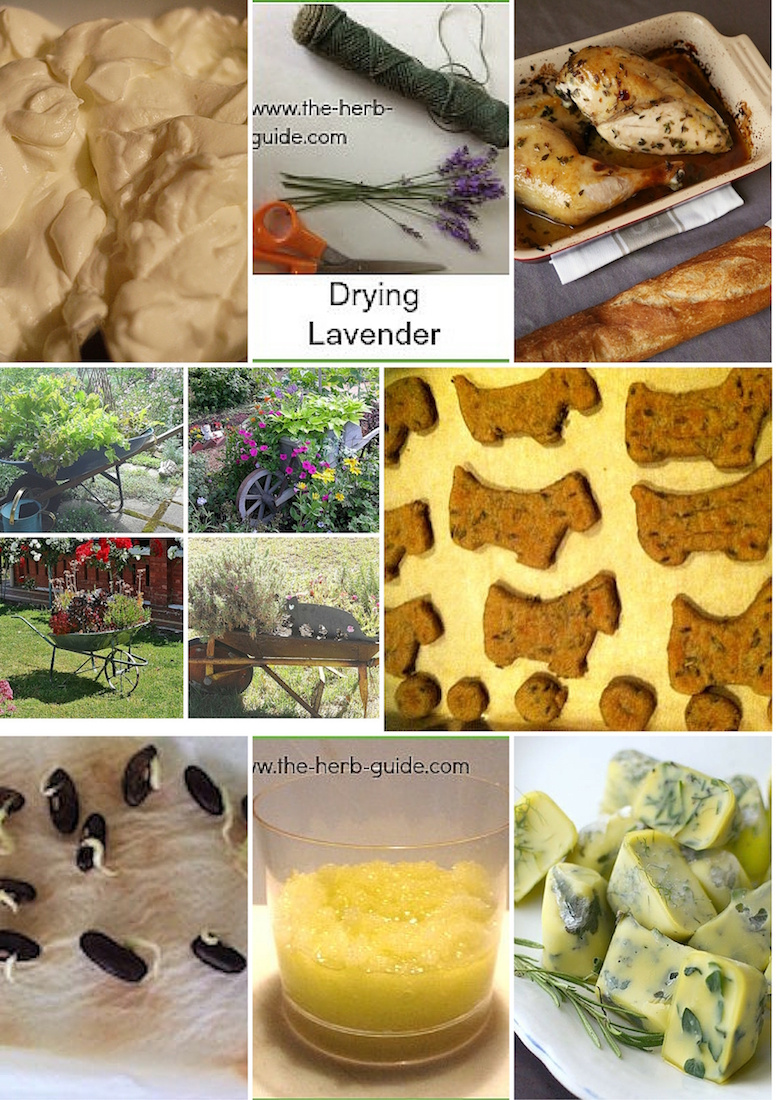 Where would you like to go next?
The Herb Guide

›
Growing Herbs
› Container Herb Gardens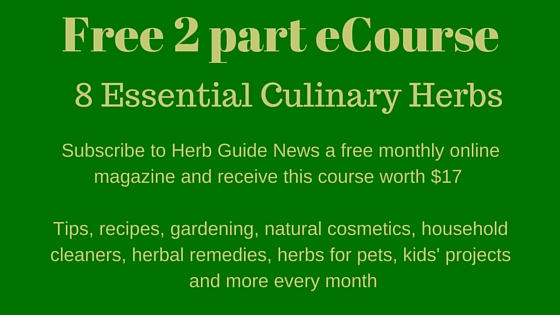 Some of the links on this site include affiliate links, providing the Herb Guide a small percentage of the sale at no additional cost to you. You are not obliged to use these links to make a purchase, but if you do, it helps to support this site.
Home
|
Contact
|
Sitemap
|
About Me
Herb Guide TV

---