Container Herb Gardens
As an Amazon Associate I earn from qualifying purchases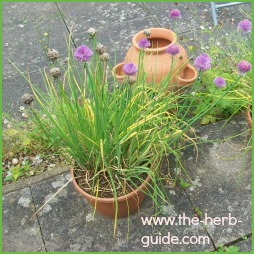 Container herb gardens are the perfect way to grow a selection of herbs.
It's handy to have one by the kitchen door.  It's the perfect solution if you only have a balcony or window box to grow herbs in. 
Growing herbs in a container is a good way of giving herbs the kind of growing conditions they need.
It's also an effective way of containing invasive herbs, such as mint.
Watch this video to see instructions.
---

You can try a sample lesson to help you decide if the Herbal Academy of New England is the right choice for you - click the link below.
Preview Lesson from the Introductory Herbal Course
---
You can use a lot of things as container gardens - you don't have to spend a fortune.
Whilst there are some delightful, purpose built containers, a large wicker basket would last at least one year and look very stylish. I had one that I planted some mint in and it lasted about six years before it collapsed totally. 
Large terracota pots, tubs, long rectangular pots are all suitable - an old sink - check around breakers yards to find interesting containers.
An old wheelbarrow would be ideal - it would also mean that you wouldn't have to bend to pick your herb. I've seen people use old watering cans, teapots, boots and shoes. The only limit is your imagination. 
Use good quality potting compost mixed with some sand for good drainage when making the gardens.
A useful tip in the video is to cut up disposable nappies/diapers to act as water retainers, so the pots don't dry out - it's an excellent idea and one I intend to use when lining pots.
I would not put mint into your container gardens - it would very likely take over and overwhelm everything else that was in there - use a large pot for mint on its own. Give mint a pot of its own and put it beside the rest.
Some herbs don't 'play nice' together and mint is one of them - it's incredibly invasive. 
Group together herbs that have similar needs - shade loving, sun loving etc and have similar sizes. 
Also, think about whether herbs are annual, perennial or biennial. 
Plant up the herbs you use most often - the link at the top right of the page here will take you to the growing index to see which varieties you might like.
Container Herb Gardens - what would you like to see next?
I may receive a commission if you purchase something mentioned in this post. See more details here  This will not affect the amount you pay.