Nasi Ulam from
Nazlina's Cookery School in Penang


As an Amazon Associate I earn from qualifying purchases

I am Nazlina. I am a Malay culinary guide based in Penang, Malaysia. I run cooking classes and market tours to tourists especially, who come over to learn how to cook Malay food with me.

Generally, Malay food is made up of many herbs and spices. It is rich, and full of flavour.
Contrary to the general perception that Malay food is full of fried stuff, not healthy and laden with bad cholestorel, Malay cuisine has a range of superstars: fresh herbs that can be eaten raw and which can do wonders for your body.

Most people do not know this, as they are usually presented with rich Malay food like satay and peanut sauce, beef rendang, nasi lemak and also laksa, which is creamy with coconut milk.
So hopefully after reading my article, your perception will change as Malay cuisine is so much more than those favourites above.
At the bottom of this page, is a video where I showed John Torrode on his Malaysian Adventure how to make pineapple curry and he sampled nasi ulam.
---

You can try a sample lesson to help you decide if the Herbal Academy of New England is the right choice for you - click the link below.
Preview Lesson from the Introductory Herbal Course
---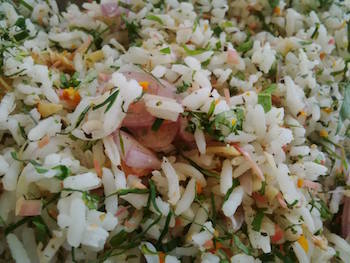 One of my favourite dishes that I like to showcase is called Nasi Ulam. The literal translation is "Herb Rice". Nasi is rice in Malay. Ulam is herb. This rice dish, even though simple to cook because almost no cooking is required, is elaborate to make because you are supposed to assemble 21 ingredients to make it!
Basically, it is a cold rice salad. Cooked rice, tossed together with up to 17 fresh herbs and vegetables and sprinkled with toasted grated coconut, some dried shrimps, fried salted fish flakes and freshly ground pepper.
The caveat: all these herbs and vegetables have to be sliced really, really thin, before you toss them with the rice! Oh man, my fingers scream in protest everytime I make nasi ulam.
Nasi ulam is no longer readily available in restaurants or side walk stalls nowadays.

You can guess the reason all right: not many people are willing to spend time to hunt for the herbs and later dilligently slice them thinly and patiently.
This elaborate rice salad traditionally is served to women after they give birth. It is the meal fed to new moms because it is so nutritious. Imagine the list of phytonutrients you can find in these herbs! Besides, it is also non-fattening, crucial for young moms especially, who are willing to sacrifice delicious taste in order to get their beautiful shapely bodies back.
In the northern part of Peninsular Malaysia, nasi ulam is also can be found during Ramadhan. This rice dish is paired up with a sour soup made of yam. It really is an interesting combination. 
The idea is, after a long day of fasting, your body is not ready to digest rich food that you normally consume, so nasi ulam, being light in texture, and the sour yam soup, are perfect to make your saliva run again to digest the food.
The Nyonyas (a community of Malay-Chinese hybrid), also adopt Malay customs and cuisine. 

They also serve and make nasi ulam. The colors and some ingredients may vary a little, but essentially they are the same.
Ah, I almost forgot to tell you. Consuming these ulams on a regular basis is the secret why most Malay women look younger than their actual age.
Here, I include the recipe of nasi ulam, for your pleasure and photos of some of the herbs used in this beautiful dish. If you have any questions, please do not hesitate to contact me

Nasi Ulam (Herbal Rice)
4 cups cooked, cooled white rice

20g dried mergui fried fish (deep fry for a minute till crispy, let cool and shred into small pieces)

20g dried shrimps (soak in hot water for 15 minutes, drain and pound finely)

5 g shrimp paste (toast over a dry pan to bring out the aroma over a slow fire, then crumble it into little pieces)

2 lemon grass (slice and chopped finely, use up to the "purple rings")

15g fresh turmeric root, peeled and chopped  finely

1 tbs finely ground black pepper

3 kaffir lime leaves (rolled tight and sliced thinly)

6 stalks of peppermint (pluck the leaves and sliced thinly)

4 stalks of Vietnamese mint (pluck the leaves and sliced thinly)

4 stalks of Thai Basil (pluck the leaves and sliced thinly)

½ torch ginger (or known as ginger flower, sliced thinly)

10 shallots, peeled and sliced thinly

3 four-angled beans (or known as wing beans), you may substitute with other beans that you can eat raw, (yes, you guess it right, SLICED THEM THINLY to show you come from a fine family :P)

2 pieces of long beans (DITTO).

1 cup of shredded, toasted coconut – also known as kerisik. 

Salt to taste (if desired)
Method:
After slicing/chopping/mincing all said ingredients, toss them together with the rice and serve with sambal belachan.
Selamat Makan!
Note: Other leaves you can use, if you can find them: wild pepper leaves, sand ginger leaves (chekur), and turmeric leaves. Use only 1-2 pieces each. Yes, of course, slice them finely… ;)
Please visit email me or visit via the links below.
nazlina@pickles-and-spices.com
You can view a clip on John Torrode's Malaysian Adventure, Penang episode, where he tried nasi ulam and also, on the same episode, yours truly taught him how to make pineapple curry.
I may receive a commission if you purchase something mentioned in this post. See more details here  This will not affect the amount you pay.