Recipe for Garlic Shrimp
As an Amazon Associate I earn from qualifying purchases

This recipe for garlic shrimp is so easy - just a few ingredients and wthin 10 minutes, you have the most fantastic seafood appetizer.
The quantity of garlic in this recipe is deliberately vague - use more or less as you prefer - at least 2 but if they're small and you like garlic, then use 3 or 4.
Shrimp or prawns? In the UK, shrimp are small and prawns are large - this is the same in New Zealand and Canada is interchangeable. In the US, shrimp are large. 
They taste delicious whatever you call them :-) 
---

You can try a sample lesson to help you decide if the Herbal Academy of New England is the right choice for you - click the link below.
Preview Lesson from the Introductory Herbal Course
---
Recipe for Garlic Shrimp
2 oz (50g) butter
1 small onion - peeled and finely chopped
2 - 4 cloves garlic - peeled and crushed
1 lb cooked shrimp or prawns
1 tablespoon lemon juice
fresh chopped parsley

Heat the butter in a frying pan, add the onion and garlic and sweat very gently for about 5 minutes until softened.
Turn up the heat and add the shrimp.
Stir round quickly for a couple of minutes until they're heated through and covered in garlic butter.
Divide between the serving plates, pouring any butter over the shrimp.
Serve immediately whilst hot.
To make a salsa salad, just dice what you would normally have - cucumber, tomato, pepper, avocado, radish, celery - I like to add some drained sweet corn kernels as well and some grated carrot.
It makes a very pleasant change from a plain salad and I find children are more likely to eat it.
You could add a tablespoon of vinaigrette, but sometimes, it's just nice to let the salad flavors mingle alone.
These quantities will serve 4 as a starter - a slice or two of brown bread and butter and a salad garnish will make this dinner party standard fayre.
If you double up quantities, it's enough for a lunch.
In this case, make a good side salad or salsa and some slices of crusty bread to mop up the buttery garlicky juices.
A finger bowl of hot water and lemon would be a nice touch if you're serving guests - the family can get up and wash their hands at the sink :-)
Where would you like to go next?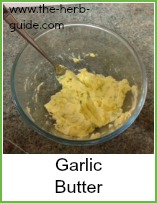 Garlic Butter
Recipe for Garlic Shrimp
By Liz Alderson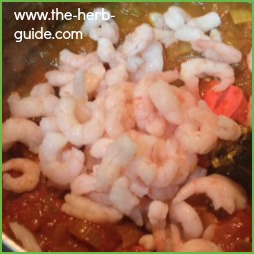 Super easy recipe for garlic shrimp. Makes a fabulous seafood appetizer that you can have ready in minutes
Prep Time: 10 minutes

Cook time: 5 minutes

Yield: 4

Main Ingredient: shrimp, garlic, butter
I may receive a commission if you purchase something mentioned in this post. See more details here  This will not affect the amount you pay.