Sage Stuffing

As an Amazon Associate I earn from qualifying purchases

Sage stuffing is an essential for turkey - Thanksgiving, Christmas or any time of year. It's perfect with other poultry too. I always make it when I have chicken. Either follow the step by step photos or watch this short video showing you how to make the best stuffing you'll ever try.
Sage stuffing video from Herb Guide TV

You'll never buy a packet of stuffing mix again once you've tried this!
It is easy to double up to make more.
Perfect for the holiday turkey or any time you have roast chicken.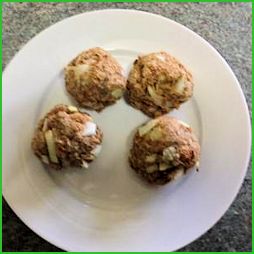 To make stuffing for 4 people:-
4 slices bread
medium onion
1 egg
fresh sage leaves - around 10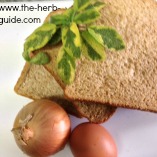 Tear the bread into smallish pieces and put into a food processor or blender.
It is possible to run through a manual grater, but your bread will need to be stale or it will just rub into little balls.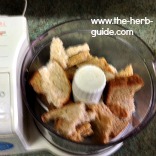 Take the leaves off the sage and give them a quick rinse - pat dry with kitchen roll.

Pop the sage into the processor - it's important to chop the sage leaves quite fine and this is the easiest way of doing it.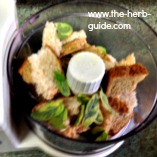 Whizz the processor for a few seconds.
It normally takes around 10 to 15 seconds to get the breadcrumbs nice and small like this and the sage chopped into the stuffing mix evenly.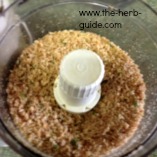 It looks complicated, but making stuffing is really easy and you'll never settle for a packet of sage stuffing again!
Peel your onion and place it on a chopping board.
Chop it in half and lay flat side down on the board.You only need half an onion for this recipe.Cut the onion from root to tip several times.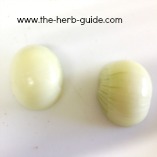 I have fanned it out to show you how it looks, but you need to keep quite a firm grip on it once it's been cut for the next stage.
Slice the onion across now - you can see how it's dicing - once again, I've spread it out so you can see, but you will need to keep a firm hold otherwise it will spread and slide all over the place!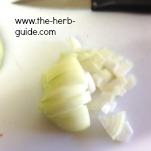 Here you can see the finely diced onion.It's important to get it as fine as you can - some people whizz it in the processor, but I find it makes the stuffing a little heavy.I prefer to have the recipe a bit 'chunkier'.
Mix the onion into the sage stuffing mixture.
I use my hands but you could use a fork if you prefer.
I like to feel it's mixed thoroughly.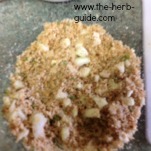 Add the egg - all of it.Cook's Tip Break it into a cup first unless you're absolutely sure of the freshness.If it's gone 'off' then it will spoil the stuffing mixture and you'll have to start with the bread and sage again.
Mix it thoroughly.One egg is enough - it will look a bit 'dry' to begin with but persevere and it will all stick together.You can double up the quantities if you like.
Divide the sage stuffing into four.
Wet your hands and form each piece into a ball.
You can make these in advance and you could cook them in the same tin as your meat.
They need about 30 minutes in a medium oven (375F, 189C, Gas mark 5) turn them in the cooking fat twice, which will make them crispy and tasty.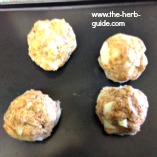 I may receive a commission if you purchase something mentioned in this post. See more details here  This will not affect the amount you pay.