Seafood With Herbs Recipe Book

As an Amazon Associate I earn from qualifying purchases

This book has been written as a result of two questions:

1. What herbs go with fish and

2. What do I serve with fish.

This book has answers in abundance.

Each of the recipes gives suggestions of what is suitable to go with the finished dish, plus there is a list of general suggestions with 'how to select' guidelines in the introduction.


The recipes range from easy family pasta meals to dinner party meals which are straightforward but impressive.

Broiling, baking, grilling, frying even using a slow cooker/crockpot - you'll find it all here.


Cooking is not a Science, it's an Art - here, I'll help you develop your skills.




US Visitors Click Here (Around $2.99 for Kindle edition)

Fish is never boring - you could take these 30 recipes and serve a different meal every night for a year!
Each recipe has 'serve with' suggestions, so you never need wonder about what side to add.
In addition, there are recipes for herb oils, butter, herby croutons, salads and sauces - all to enhance your cooking.
Of course, these skills will transfer to your other cooking and help you cook meals with flair.
Everybody says we should eat more fish and seafood - not least the Seafood Marketing Industry (!) - but we know it's a good source of minerals, vitamins and protein, it's lower in fat than most meats, easier to digest and quicker to cook.
If fish to you has meant taking a pack of frozen fingers or breaded fillets, then this book will open up a whole new world to you.
There are some store cupboard recipes, so you'll never be stuck for a quick tasty meal - some can be cooked in less time than it takes for a take away to be delivered!
The Herb Guide

›
Herb Books
› Seafood with Herbs Recipes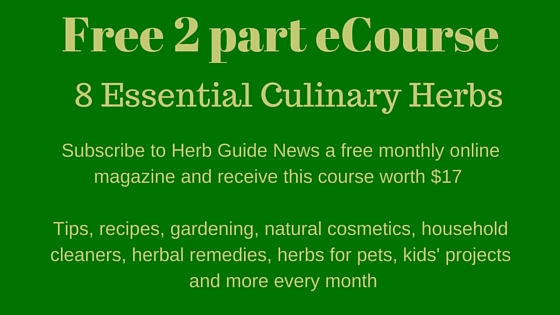 ---
I may receive a commission if you purchase something mentioned in this post. See more details here