Strawberry Basil Jam
As an Amazon Associate I earn from qualifying purchases

A strawberry basil jam ready in around twenty minutes? I didn't think so, and I'll forgive you for doubting it - but it's true!
Follow along with the step by step photos or watch the short video I've made - at the bottom of the recipe instructions. 
The basil is optional, so don't let the fact you haven't got any stop you giving this a try. You can always put some in next time.
I shall most definitely be making this frequently - take advantage of hedgerow fruit and marked down fruit at the supermarket. You can even use frozen fruit for this. Freeze your own fruit or buy it. I think this is the perfect way to prevent wastage of that odd bit of fruit left in the bowl at the end of the week. Chop it up and put it in a bag in the freezer to use to make preserves. 
Chia seeds are readily available everywhere and they have a good shelf life.  If you can't find any, then here's a link to Amazon to buy chia seeds online. UK link here
---

You can try a sample lesson to help you decide if the Herbal Academy of New England is the right choice for you - click the link below.
Preview Lesson from the Introductory Herbal Course
---
These are your ingredients:
2 cups - 1 pound - 400g strawberries
1 Tablespoon lemon juice
1 Tablespoon honey
2 Tablespoons chia seeds
few basil leaves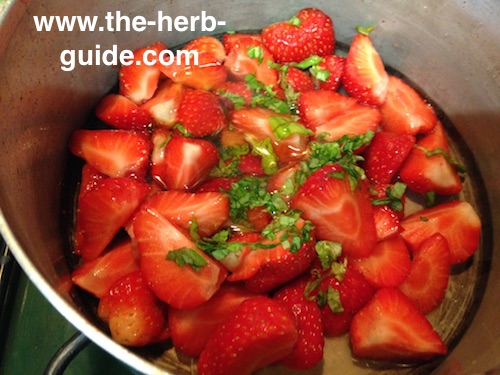 Cut up the fruit and add the honey, lemon juice and chopped basil.
Simmer for 10 minutes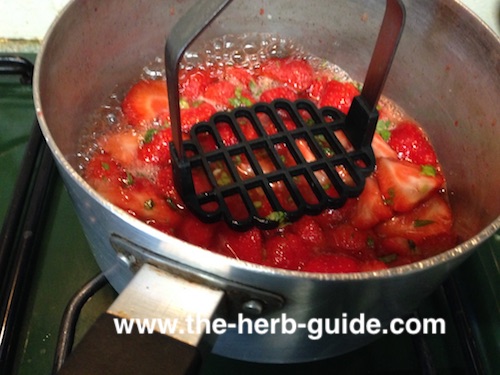 After this time, using a potato masher or the back of a spoon, crush the fruit until it's the texture you like - chunky or smooth. Taste the fruit mixture at this point and see if you need to add more lemon juice or honey - it's going to be a personal taste and neither of them will make a difference to the finished consistency of the jam. That's down to the chia seeds.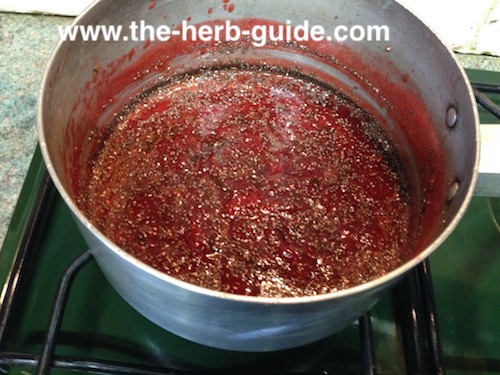 Add 2 Tablespoons of chia seeds and stir through. Let the jam sit for about five minutes and see if it's thick enough for you. It will thicken a little more as it cools and sits for longer.
If you want it thicker, add chia seeds one teaspoon at a time.
You don't taste the chia seeds, nor do they appear gritty in the mouth. It's just a smooth strawberry chia jam.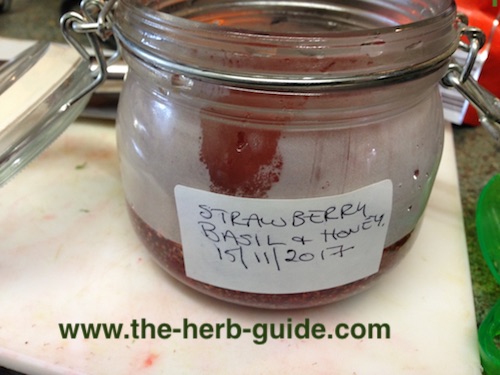 Pour the  jam into a clean glass jar. Label it with the date you made it.
It will last for two weeks in the fridge or you can freeze it. Defrost in the fridge and it will last two weeks from then. 
It's so simple, it's worth making up small quantities of jam out of bargain or free fruit - 20 minutes or less to preserve your fruit - marvellous!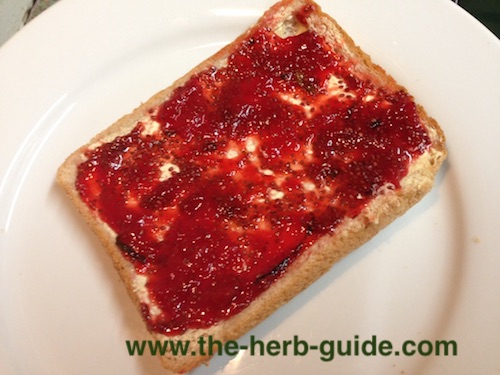 Now  look at that - a slice of bread and butter thickly spread with homemade strawberry basil jam - it tastes so fresh, you really can taste the strawberry in this, not heavy with sugar at all, but delicately flavoured with the honey and basil.
Strawberry Basil Jam - video
---
I may receive a commission if you purchase something mentioned in this post. See more details here  This will not affect the amount you pay.