Basa Fish
Baked Basa Fish with Mint Sauce

Serves 4
Mint is an unusual herb to use with fish, but this is sauce is surprisingly good with basa.
It's not the traditional vinegary concoction you have with lamb.
The foil keeps the fish moist and it's plainly cooked – it's the sauce that adds the interest.
Serve it with buttered potatoes and seasonal vegetables. The mint sauce is perfect with the potatoes as well – the taste of summer.
Give it a go.
Basa fish is a white fish, much like cod, haddock, pollack etc, so you could substitute any of those you liked if you can't find basa. 
---

You can try a sample lesson to help you decide if the Herbal Academy of New England is the right choice for you - click the link below.
Preview Lesson from the Introductory Herbal Course
---
4 basa fillets
oil
ground black pepper
juice of ½ lemon
1 small onion, finely chopped
1 Tablespoon, ½ oz (15g) butter
1 1/2 cups, 6 oz (175g) frozen peas
1 tablespoon finely chopped fresh mint
1 cup, 5 fl oz (150ml) plain yoghurt or crème fraiche
mint leaves to garnish

Pre-heat your oven to Gas Mark 6, 400F or 200C.
Wash and dry the basa.
Oil a shallow baking dish and then lay the fish in it.
Season with pepper and some of the lemon juice.
Cover with foil and bake for about 20 to 25 minutes.
Gently fry the onion in the butter until it's transparent and soft.
Add the peas and a teaspoon of water. Cook for about 3 minutes.
Turn this mixture into a blender or food processor, add the mint and yoghurt or crème fraiche and blend until smooth.
Add lemon juice and pepper to taste.
Test the fish for 'doneness'. Remove the foil (be careful as there will be lots of steam) and press the basa with your finger. If it is firm to the touch then it is ready to eat - if not, then cover it with the foil again give it an extra 5 minutes. The fish will look opaque when it's done. 

Serve the fish with the sauce poured over and a sprig of mint to garnish.
What would you like to see next?
Basa Fish
By Liz Alderson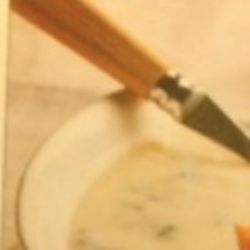 The basa fish is cooked simply in the oven with some lemon and pepper. The mint sauce is a delicious creamy concoction that sets off the simply cooked fish perfectly. This would work for any white fish.
Prep Time: 5 minutes

Cook time: 25 minutes

Yield: 4

Main Ingredient: basa, creme fraiche, peas, mint
I may receive a commission if you purchase something mentioned in this post. See more details here  This will not affect the amount you pay.