Chocolate Mint Cookie Recipe
Chocolate Mint Cookie Recipe
As an Amazon Associate I earn from qualifying purchases

This chocolate mint cookie recipe will become a firm favorite.
So easy to make and combining chocolate with the fresh flavor of mint.
The cookies would be good packed in a lunch box or with a cup of coffee.
If you like, you could top them with chocolate mint thins (After Eights in the UK).
Take the cookie out of the oven when they are cooked and just pop a mint thin on top to melt - delicious. It will melt into a lovely gooey topping which will coat the top of the cookie. 
You could use any chocolate you like to top the cookie, maybe if you've had a lot for Christmas gifts, then you could use a selection on top of the cookies, I think that would look really neat - I often get lots of chocolate gifts and would like to use them up as quickly as possible, so I can get back to a healthy eating plan. So long as there's boxes of chocolates sat in my house, they call to me!
---

You can try a sample lesson to help you decide if the Herbal Academy of New England is the right choice for you - click the link below.
Preview Lesson from the Introductory Herbal Course
---
Recipe for Chocolate Mint Cookie
2 1/2 cups semisweet chocolate chips
6 tablespoons all purpose flour
1/2 teaspoon baking powder
3/4 cup sugar
2 large eggs
2 tablespoons dark corn syrup
1/2 teaspoon peppermint extract

Heat the oven to gas mark 4, 350F, 180C.
Take 3 baking trays and grease them with butter or oil.
Put half the chocolate chips into a medium sized glass bowl and heat in the microwave until they're melted.
Give them 30 second blasts and stir to help them on their way to melting.
Cool whilst you prepare the other ingredients.
Mix the flour and baking powder together.
In a separate bowl, mix the sugar, eggs, corn syrup and mint extract together - use an electric beater - the mixture should be quite thick.
Gradually incorporate the melted chocolate, then stir in the flour and baking powder.
Mix in remaining chocolate chips.
Put about 8 tablespoons of cookie batter on each baking sheet - keep them well spaced, bearing in mind that the mixture will spread as they cook.
The cookies should be cracked on top when they're cooked - about 15 minutes.
If you like, you could put a chocolate mint thin onto each cookie at this point to melt.
What would you like to see next?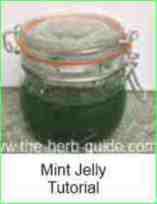 Mint Jelly
Chocolate Mint Cookie Recipe
By Liz Alderson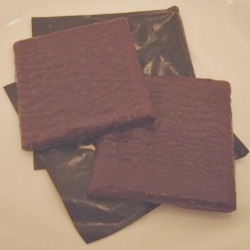 Gorgeous minty chocolate cookies - so easy to make and super tasty.
Prep Time: 10 minutes

Cook time: 15 minutes

Yield: 24

Main Ingredient: chocolate chips
I may receive a commission if you purchase something mentioned in this post. See more details here  This will not affect the amount you pay.