Creamy Seafood Pasta
As an Amazon Associate I earn from qualifying purchases

This creamy seafood pasta recipe is simple and quick to prepare. It's suitable for a dinner party or a family meal.
You can use fresh or frozen seafood - frozen are probably easiest. It's a great storecupboard/freezer recipe.
The recipe uses ready cooked mussels in garlic butter - you can of course cook them yourself. 
Just scrub and beard them. Soften a couple of crushed garlic cloves in butter, add a glass of white wine, then the mussels. Steam them for about 5 minutes until they're open. Discard any that remain closed.
There's a great recipe for mussels here which would be suitable.
---

You can try a sample lesson to help you decide if the Herbal Academy of New England is the right choice for you - click the link below.
Preview Lesson from the Introductory Herbal Course
---
Seafood Pasta

12 oz (300g) dried pasta
1 onion - peeled and finely chopped
2 tbspns olive oil
1 glass dry white wine
8 oz (200ml) tub of creme fraiche
1lb (500g) packs of mussels in garlic butter
8 oz (250g) frozen prawns/shrimp- defrosted
handful of fresh chopped parsley
 2 tbspns fresh chopped tarragon

Cook the pasta in boiling water (add a drop of olive oil to prevent sticking) for around 10 minutes.
Meanwhile, heat the olive oil in a large pan and then soften the onion.
Add the wine and simmer for a couple of minutes.
Combine the creme fraiche and then pour in the mussels and prawns.
Heat the creamy sauce adding the herbs for the last minute or so.
Drain the pasta.
Divide the pasta onto warmed plates and top with the creamy seafood pasta sauce.
Let people decide whether to add fresh ground black pepper and grated parmesan cheese.  Have a pepper grinder at the table and hand out the grated parmesan in a dish with a spoon so that  people can help themselves. I really love parmesan cheese on my pasta dishes and I'm afraid I'm a bit greedy with it, scattering it over my pasta a couple of times whilst I'm eating. Hey ho - there's worse things in life to be addicted to. 
Use spagahetti or tagliatelle for this recipe - serve it with fresh crusty bread and butter to mop up the juices.
The recipe calls for a glass of white wine - you can either serve the rest of the bottle to your guests or exercise cook's privileges and drink it while the meal's cooking :-)  
Where would you like to go next?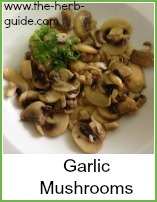 Garlic Mushrooms
Creamy Seafood Pasta
By Liz Alderson
Superb creamy garlic seafood pasta. Quick to put together and fabulous to eat.
Prep Time: 10 minutes

Cook time: 10 minutes

Yield: 4

Main Ingredient: pasta, mussels
I may receive a commission if you purchase something mentioned in this post. See more details here  This will not affect the amount you pay.