Garlic Prawn Pasta
As an Amazon Associate I earn from qualifying purchases

A super quick garlic prawn pasta recipe for you.
Keep some shrimp (prawns) in the freezer and you can have this dish on the table in double quick time.
Shrimp are the US name for prawns - they are large and sometimes you will hear them referred to as shrimp scampi.
The authentic recipe calls for the large, raw shrimp - about 20 count to the pound, but you can of course, use much smaller ones if you prefer. I personally find them a little too 'meaty' and if you're not careful, you can easily overcook them and they end up tough and chewy.
---

You can try a sample lesson to help you decide if the Herbal Academy of New England is the right choice for you - click the link below.
Preview Lesson from the Introductory Herbal Course
---
So, just a flash fry until they go pink, then they will continue to cook when you put them back in the sauce.
The quantity here will serve 3 or 4 people, depending on their appetite.
Garlic Prawn Pasta
Ingredients:
1 pound linguine or spaghetti
1 Tablespoon olive oil
3 cloves of garlic - crushed
20 large shrimp or prawns
1/4 teaspoon dried red chilli flakes
20 small cherry tomatoes
2 Tablespoons finely chopped parsley
juice and zest of one lemon
1 cup (250 ml) white wine
1/4 pound (100g) unsalted butter, cut into chunks
Method:
Cook the pasta in boiling water until al dente - drain, sprinkle a teaspoon or so of the olive oil over and put the pasta back in the pan with the lid on to keep it warm. Give the pan a shake to distribute the oil.
Heat the remainder of the olive oil and gently cook the garlic, add the cherry tomatoes and allow them to blacken a little by letting them sit on the bottom of the pan.
Add the shrimp and quickly fry until they turn pink. Remove from the pan - pop them in with the pasta to keep warm.
Add the wine, the chilli flakes, half the parsley, all the lemon and let the mixture bubble. Add the butter a chunk at a time, stirring all the time until the sauce reduces and thickens.
Put the shrimp back into the sauce, stir quickly so that they heat through again.
Pour into the pasta, mix thoroughly and serve onto hot dishes - if you use a bowl rather than a plate, the pasta will stay hotter for longer. Sprinkle with the rest of the parsley.
Serve this with some crusty fresh bread to mop up the juices. 
Garlic Prawn Pasta
By Liz Alderson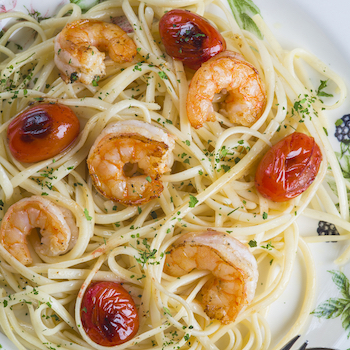 Super easy and tasty garlic prawn pasta. You can have a delicious meal on the table in double quick time.
Prep Time: 5 minutes

Cook time: 10 minutes

Yield: 3-4

Main Ingredient: shrimp/prawn, pasta, garlic
I may receive a commission if you purchase something mentioned in this post. See more details here  This will not affect the amount you pay.