Flu Herbal Remedy
As an Amazon Associate I earn from qualifying purchases

A flu herbal remedy can relieve the symptoms if you already have it - read here to boost your immune system to fight off the infection.
---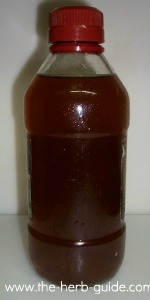 One of the first things you will probably suffer is a sore throat.
Use sage cough medicine:-
Take one bunch of sage leaves - wash and dry - and a pint of water and simmer for 20 minutes.
Strain through muslin and add the sage water to 1lb of honey. Simmer for a further 20 minutes.

Cool and strain into a jar.
Take 1 teaspoon to soothe your sore throat or cough or use to sweeten hot lemon drinks. You can use this four times a day.
This will keep for about 6 months.  It is one thing that I keep in all the time. It is particularly good for coughs if they are the aftermath of a cold or flu.
The photo here is of a bottle of my sage and honey cough medicine.  I made it regularly when my son was small as it would invariably be needed each winter and often during the summer. When children are little, they don't always observe the same hygiene levels as grown ups and consequently, coughs and colds pass around like wild fire.  I normally have a bottle in stock now, but since I gave up smoking some years ago, I find less and less need for it. 
---

You can try a sample lesson to help you decide if the Herbal Academy of New England is the right choice for you - click the link below.
Preview Lesson from the Introductory Herbal Course
---
Flu herbal remedy - garlic honey
Another flu herbal remedy is garlic honey:-

peel and chop 2 heads of garlic - then crush finely.
Mix into a pot of honey and leave overnight.
Stir in the juice if any has formed and take 1 teaspoon to soothe a cold, cough or sore throat. Take up to four times a day.
This mixture will also keep for about 6 months.
It's well worth preparing a jar of one or both of these medicated honeys. the honey acts as a preservative in the flu herbal remedy.
I prefer sage because of the smell of garlic, but many people swear that garlic is more effective.
To relieve the congestion, try a peppermint inhalation.
Use 30g of fresh peppermint leaves (or one tablespoon dried) in a bowl of freshly boiled water.
Put a towel over your head and inhale for a few minutes.
Eucalyptus oil is effective as well - use about 4 or 5 drops in boiled water as above.
The sneezing, runny nose, sore throat, headaches and muscular pains are all signs that your body is fighting the infection.
In addition to the herbs, get plenty of rest and drink lots of fluid.
The information on this website is in no way intended as medical advice and nor should it be taken as such.
If symptoms don't improve, consult your doctor. 
If you have a medical condition, you must consult a Herbal Practitioner or a Medical Doctor. 
If you are pregnant, you must consult your doctor or nurse before trying any herbal remedy.
If you are already taking pharmaceuticals, then speak to your doctor about taking herbs - some drugs react badly with herbs and you need to know that you are not going to do more harm than good.

More natural remedies on these pages
I may receive a commission if you purchase something mentioned in this post. See more details here  This will not affect the amount you pay.