Herb Bread Recipe
As an Amazon Associate I earn from qualifying purchases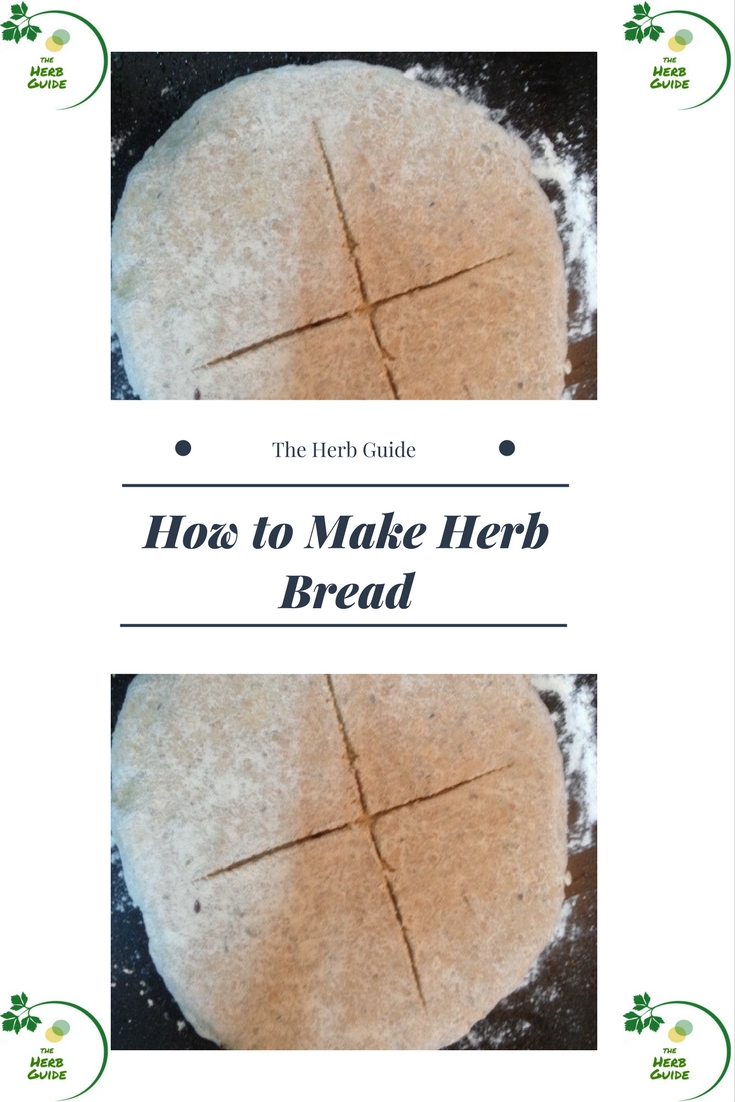 This herb bread recipe is very simple. It uses soda as its raising agent, so you don't have to prove it.
This makes it really quick - you just mix it together and shape it.
Then you bake it for 45 minutes - it means that you can have it baking in the oven while you get together a soup, pasta dish or salad.
You can use fresh or dried herbs -1 tablespoon of fresh is the equivalent of one teaspoon of dried herbs.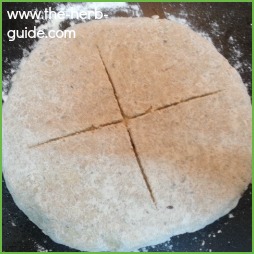 ---

You can try a sample lesson to help you decide if the Herbal Academy of New England is the right choice for you - click the link below.
Preview Lesson from the Introductory Herbal Course
---
Herb Bread Recipe
8 oz (225g, 2 cups) plain (all purpose) flour
8 oz (225g, 2 cups) wholemeal (wholewheat) flour
2 tspns salt
1 tspn bicarbonate soda (baking soda)
1 oz (25g, 2 tbspns) butter
1 tbspn chopped chives
1 tbspn chopped parsley
1/2 pint (300ml,1 1/4 cups) milk

Set the oven at Mark 6, 200C or 400F and grease a baking sheet.
Mix the dry ingredients together in a large bowl.
Rub in the butter until the mix looks like breadcrumbs.
Add the herbs and stir through, then add the milk and mix to a soft dough.
Knead this into a round about 8", 20 cm and put on the baking sheet.
Slash a cross in the top - probably cut each quarter again in half, making 8 portions.
When you break the bread, it will separate cleanly where the knife marks are.
Bake in the oven for 45 minutes until firm.
Just like normal bread, the loaf should sound hollow when you tap the bottom.
If you want to use dried herbs, then substitute 1 tspn for the fresh.
You could try rosemary, sage, dill, thyme or garlic granules.
Try some grated parmesan cheese with garlic granules - wonderful.
Basil added to parmesan would be great with a pasta or tomato dish.
It smells fantastic while it's cooking.
Just break it up - if you want to slice it, you'll have to let it cool - but it's great for dunking in soup or eating with a salad.
In fact, it's just great full stop :-)
Where would you like to go next?
Cheesy Garlic Bread
Herb Bread Recipe
By Liz Alderson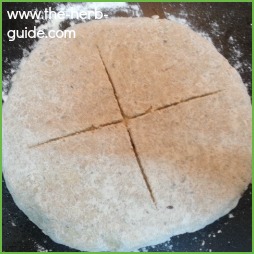 This is an amazingly simple herb bread recipe. It's based on a soda bread recipe, so is super quick and simple. You can add any herbs you like - in fact, you can add any flavourings you want as well. Just stir them in before cooking and you'll end up with a unique herb bread recipe.
Prep Time: 5 minutes

Cook time: 45 minutes

Yield: 4

Main Ingredient: herbs
I may receive a commission if you purchase something mentioned in this post. See more details here  This will not affect the amount you pay.