La Madeleine Tomato Basil Soup
La Madeleine Tomato Basil Soup
As an Amazon Associate I earn from qualifying purchases

La Madeleine Tomato Basil Soup is deliciously creamy.
The recipe was fiercely guarded, but it had been donated by La Madeleine to a charity cookbook to publish before it became so famous.
Of course, it's now been made public due to popular demand and here it is.
I love it and although I quite used to like canned tomato soup, I'll never use it again after trying this recipe. It takes a little longer to make but it's well worth it.
I've made a video of how to make it, it's at the bottom of the recipe.
---

You can try a sample lesson to help you decide if the Herbal Academy of New England is the right choice for you - click the link below.
Preview Lesson from the Introductory Herbal Course
---
Tomato Basil Soup

4 cups of chopped tomato - see notes at  bottom

4 cups plain tomato juice
handful fresh basil leaves
1 cup double (whipping) cream
1/2 cup unsalted butter
black pepper
crusty french bread to serve
Combine tomatoes and juice and simmer for about 30 minutes.
Allow to cool then blend with the basil leaves.
Put the mixture back into the pan with the cream and butter and re-heat until the butter and cream are incorporated.
Don't allow it to boil or it will curdle.
Season with pepper - taste and see if you need salt.
Serve into individual mugs or bowls and float a basil leaf.
It's also nice with a little swirl of cream on top.
Have lots of fresh crusty bread and butter to mop up the soup.
This would make a great starter for a dinner party, a light lunch with a few crackers and some cheese or a soothing supper.
You can use fresh ripened tomatoes or canned tomatoes. It's better to use canned plum tomatoes than unripe fresh tomatoes - the very best choice is fresh, ripe, skinned tomatoes.
La Madeleine have around 60 restaurants across the States and have won awards for many of their signature dishes - this Tomato Basil Soup being one of them.
Watch this very short video I've made which shows you the steps.
Where would you like to go next?
La Madeleine Tomato Basil Soup
By Liz Alderson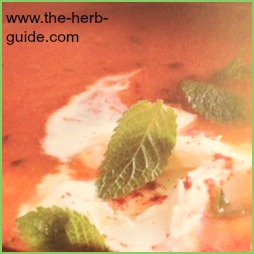 The very famous La Madeleine Tomato and Basil Soup recipe. They shared it when it was less famous for a charity recipe book - now it's common currency and is absolutely the best tomato soup you can make
Prep Time: 10 minutes

Cook time: 30 minutes

Yield: 4

Main Ingredient: tomato, basil
I may receive a commission if you purchase something mentioned in this post. See more details here  This will not affect the amount you pay.