Tomato and Basil Salad
with Mozzarella

As an Amazon Associate I earn from qualifying purchases

This is the classic tomato and basil salad with mozzarella cheese. It's sometimes known as 'Caprese Salad'.
I have given instructions for a balsamic vinegar and oil dressing, but you could equally just drizzle top grade olive oil over the salad or use a traditional vinaigrette dressing.
This is one occasion where dried basil wouldn't really do - if you've got nothing else, then go ahead, but it's well worth growing, finding or buying fresh basil for this recipe.
---

You can try a sample lesson to help you decide if the Herbal Academy of New England is the right choice for you - click the link below.
Preview Lesson from the Introductory Herbal Course
---
It's so simple to make and with some delicious crusty bread to dip in the dressing, you've got a wonderful lunch - it's the taste of summer.
I grow plum tomatoes to use for this recipe - they're so full of flavor - but if you can't get them, then use what you have. The large 'beef' tomatoes are great.
Make sure your tomatoes are ripe - also allow them to come to room temperature to get the maximum taste experience - straight from the fridge and they won't have a lot of taste.
Enjoy :-)
Tomato, Mozzarella and Basil

1 - 2 tomatoes per person - sliced
1 mozzarella cheese per two people - sliced
1 tbspn balsamic vinegar per person
1 tbspn olive oil per person
3 or 4 basil leaves per person

This recipe is so easy - layer the tomato and mozzarella, tear the basil leaves and scatter over, combine the oil and vinegar, pour over the salad.
An easy way to make the dressing is to use a jar with a lid. Pour the oil and vinegar in and then screw the lid back on tight and give the jar a good shake.
This will mix them perfectly - taste and see if you need some pepper or a bit of sugar - add it as required and then shake again.
Leave the mixture for a few minutes for the flavors to infuse and then pour over the salad.

Let the salad sit a couple of minutes before serving.

Serve with crusty bread to mop up the dressing.
I've scattered a few rocket leaves over this one - adds a bit of a peppery taste, you could also use watercress.
If you've enjoyed this tomato and basil salad recipe, these pages may be of interest to you
Caprese Salad
By Liz Alderson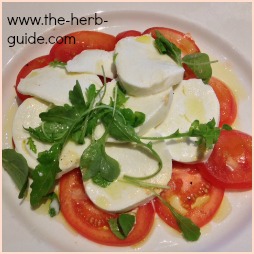 Truly tasty and spectacularly simple Caprese Salad made out of tomatoes, basil and mozzarella with a gorgeous dressing.
Prep Time: 10 minutes

Cook time: 0 minutes

Yield: 4

Main Ingredient: tomato, basil
I may receive a commission if you purchase something mentioned in this post. See more details here  This will not affect the amount you pay.