Ladybug Caprese Salad
As an Amazon Associate I earn from qualifying purchases

This ladybug caprese salad is super simple to make but looks fabulous. 
So tasty, even the kids will clamour for salad! Great for a stunning dinner party appetiser or a fun lunch served with crusty bread.
It's a great way of presenting the classic tomato, basil and mozzarella salad known as 'Insalata Caprese'.
It is Italian in origin - traditionally, you would drizzle olive oil over it.
Here, it has black olives and balsamic glaze - a twist on the original.
I'm sure you will enjoy.
Watch the video or follow the photos - it is really super simple. I couldn't believe it when I first saw photos of this tasty salad, I thought 'what on earth is that!' then I realised what they were and how they were made. Caprese salad is very much a favourite of mine when it comes to ordering in a restaurant, I love the simplicity and freshness of the ingredients, but this is a lovely twist and makes it so appealing to all ages. Anybody would smile if you were to present them with the ladybug caprese salad. 
---
Ladybug Caprese Salad Bites
---

You can try a sample lesson to help you decide if the Herbal Academy of New England is the right choice for you - click the link below.
Preview Lesson from the Introductory Herbal Course
---
The ingredients couldn't be simpler.
Basil leaves
Tomatoes - small plum ones
Mozzarella cheese
Black olives
Balsamic vinegar glaze or olive oil to serve
Crusty bread if having as a lunch, if not, just serve alone as a light appetiser.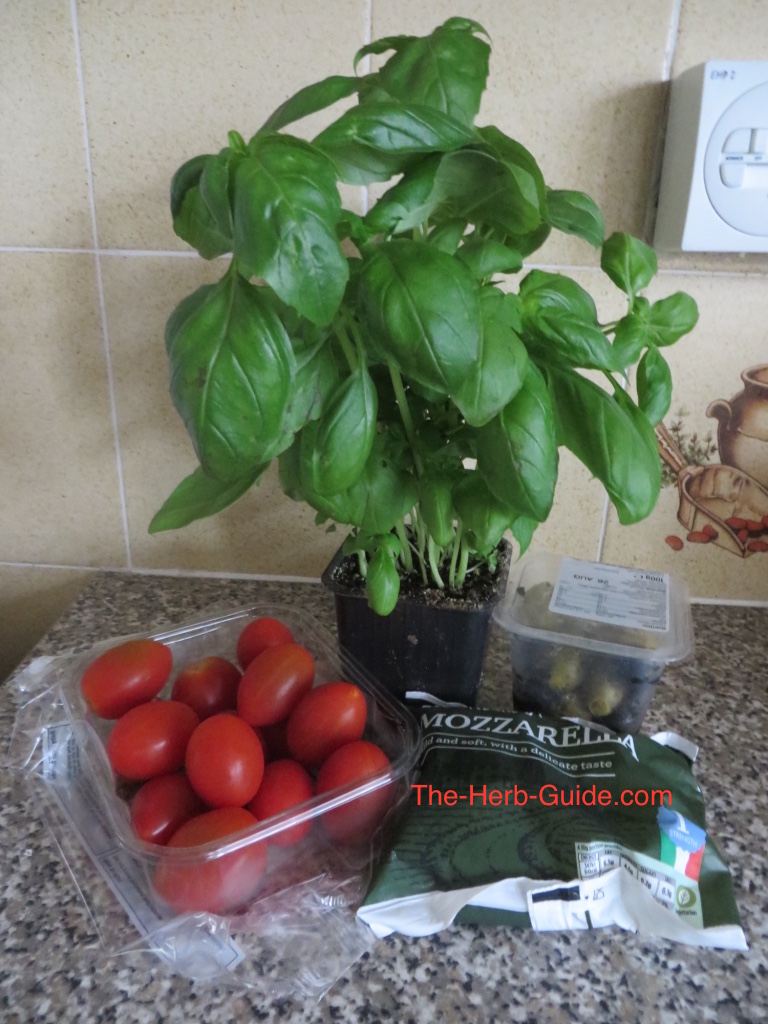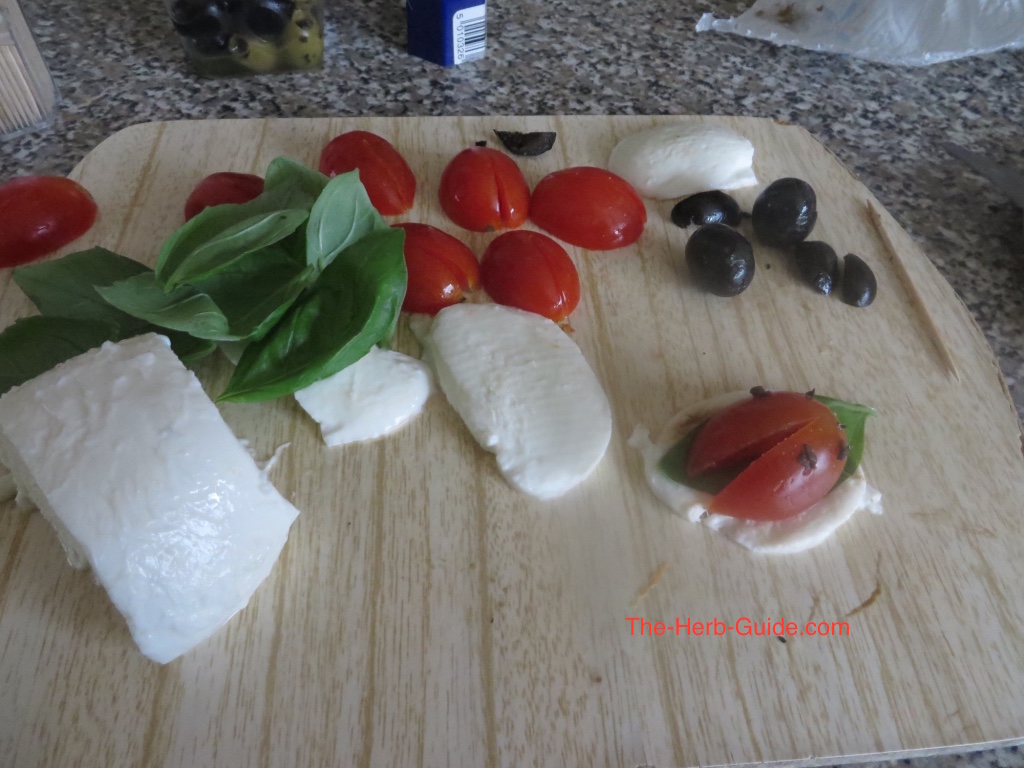 Slice the tomatoes in half then slit them lengthwise to make 'wings'.
Slice the cheese in rounds.
Tear off medium sized basil leaves.
Slice an olive into quarters - chop one quarter into tiny pieces.
Assemble:
One slice of mozzarella cheese
One Basil leaf
One half of miniature plum tomato - sliced to make ladybug wings
Quarter black olive for head
Tiny pieces of olive dotted down back to make spots - drizzle with balsamic or olive oil to your taste
Et Voila! 
I would serve two tomatoes to a portion for lunch with crusty bread or one tomato as an appetiser for a three course meal.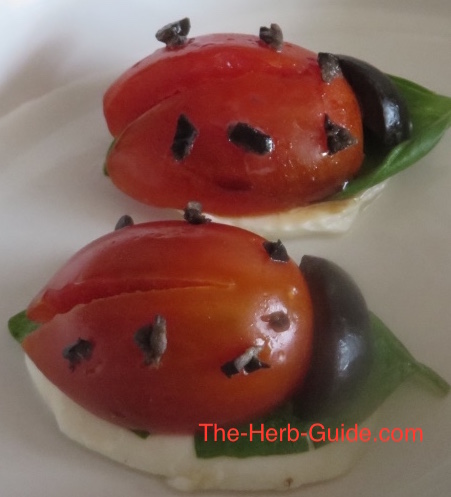 There are some more great tomato and basil combinations here - they really do go well together. There are some fabulous combination for soups, so hot and cold are just perfect. 
Ladybug Salad Bites
By Liz Alderson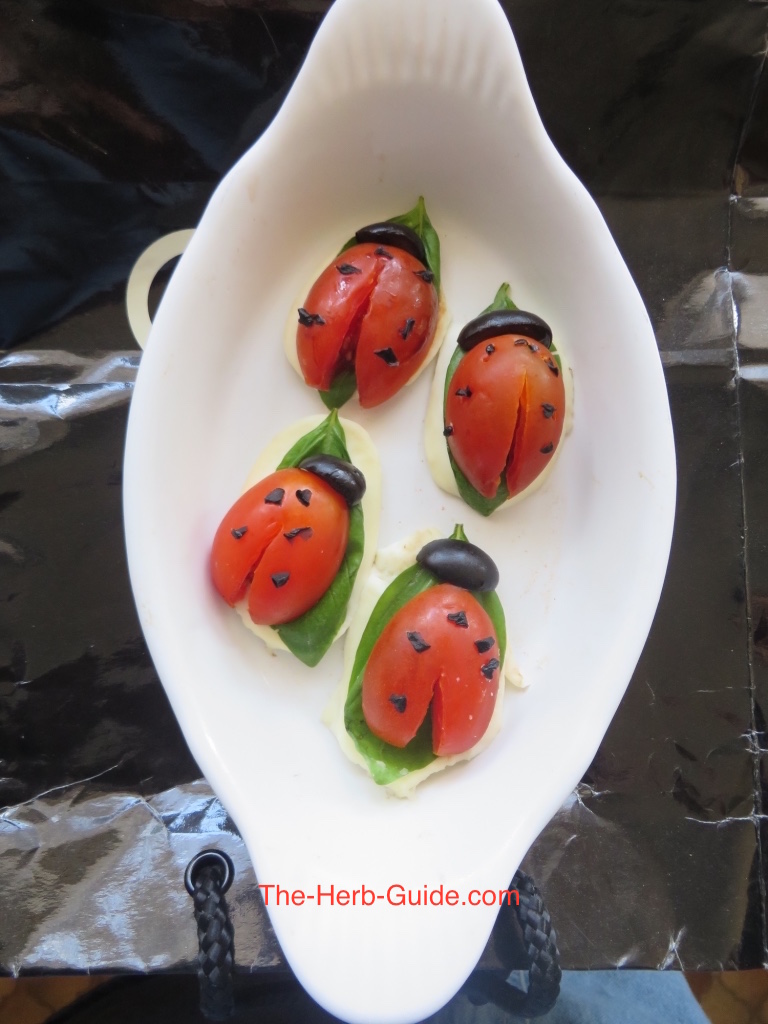 These cute ladybugs will get the kids clamouring for salad. A great way of serving bite sized portions at a buffet or an amusing appetizer.
Prep Time: 10 minutes

Cook time: 0 minutes

Yield: 12

Main Ingredient: basil, tomato, mozzarella
I may receive a commission if you purchase something mentioned in this post. See more details here  This will not affect the amount you pay.