Basil Pesto Recipe
As an Amazon Associate I earn from qualifying purchases

---
Basil Pesto Recipe - watch the video or read the step by step instructions with photos.
You could use basil you have frozen yourself as an alternative.
Click the link here to see how easy it is.
---

You can try a sample lesson to help you decide if the Herbal Academy of New England is the right choice for you - click the link below.
Preview Lesson from the Introductory Herbal Course
---
Basil Pesto Recipe - ingredients
You will need:
1 cup fresh basil
1/2 cup parmesan
1/4 cup nuts - walnuts, pine or almonds
3 cloves garlic
1/4 cup olive oil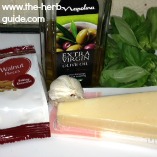 Put the basil leaves and walnuts into a food processor.
A liquidizer would work and maybe a hand blender although you would need to put the oil in first and the other ingredients aftewards.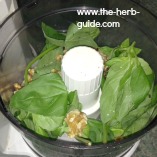 Break up the parmesan into chunks.
A recipe will often ask for it to be grated, but I don't see the point in doing that when you're going to pound it to a pulp - not a big fan of washing up you see :-)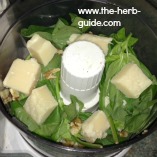 Put the lid on and start the machine.
Drizzle in the olive oil whilst the blades are running.
You may have to stop and scrape the pesto off the sides once or twice.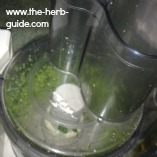 When it's done, you will have the consistency of soft butter.
This pesto is great served over pasta, fettucine or spaghetti are my favorites.
You can use it straight away or warm it slightly.
It will store in the fridge for around a week.

Sweet basil is ordinary basil, so don't be confused by labels.
I use this sauce mixed into cooked pasta - the addition of a few prawns or shredded crab meat lifts it to dinner party standards.
If you want to add prawns (shrimp) or crab to this recipe, then do so after you've done the blending - if you're using frozen, then defrost first.

I'm using a cup as a measuring standard - that's largely so that you can get the recipe proportions right - if you only have a little basil, then you can measure everything in ratio.
A cup is a standard measure in the US - other countries tend to use imperial or metric measurements. 
This is one of my very favourite recipes - I love parmesan cheese and the way the pesto clings to the pasta means that it melts through evenly, coating each strand which a gorgeous cheesy flavour. 
Where would you like to go next?
Basil Pesto Recipe
By Liz Alderson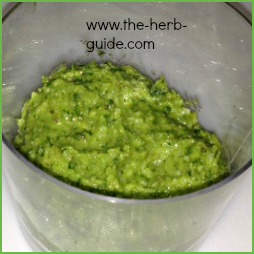 Superb basil pesto recipe that is very easy to make. Simple step by step instructions with photographs. Gorgeous with some hot pasta.
Prep Time: 10 minutes

Cook time: 0 minutes

Yield: 4

Main Ingredient: basil
I may receive a commission if you purchase something mentioned in this post. See more details here  This will not affect the amount you pay.