Herb Butters
As an Amazon Associate I earn from qualifying purchases

This method of making herb butters will work equally well for fresh or dried herbs.
I don't use butter very much any more - all that talk about cholesterol has put me off - this method will work for any type of spread.
I'll outline the method using parsley as an example and then give a list of other herbs and quantities that you might like to try.
---
The Basic Butter Recipe

1/2 cup, 4 oz (100g) softened butter
handful fresh chopped parsley

Chop the parsley very finely and mix into the butter - there, that was easy, wasn't it?
Where you go from here, rather depends on what you're going to do with it.
You can get a bit of greaseproof paper or cling film and roll the butter into a sausage shape - chill for about an hour or so and then slice into little discs.
Or you can just put it in a dish and chill in the fridge - up to you.
Other Herbs
Basil - about a dozen fresh leaves or about 1 tspn dried
Chives - 6 leaves snipped into short pieces - 2 tspn dried
Dill - three or four 'fronds' chopped - 1 1/2 tspn dried
Garlic - one or two cloves finely chopped depending on taste - add some parsley as well. Dried 1/2 to 1 tspn - to taste
Mint - 6 leaves chopped finely - 1 tspn dried
Parsley - loose handful - 2 tspns dried
Rosemary - a sprig, leaves snipped into pieces - 1 tspn dried
Sage - 4 leaves - up to 1 tspn dried
Thyme - about a tablespoon fresh leaves, chopped - 1 tspn dried

These are just a few of the herbs that I would use to flavour - the quantities are rough guides for you - don't worry too much either way.
If it's not strong enough, you can always add more herb, if it's too strong - beat in some more butter.
Storing

You can keep the butter in a covered container in the fridge for about a week - I wouldn't keep it any longer, but then I wouldn't make a huge quantity to start with. It's so simple to prepare that I like to make it fresh most times.
You can freeze the butter in ice cube trays or sliced into discs if you're not going to use it within a week or so.
Where would you like to go next?
The Herb Guide

›
Herb Recipes
› Herb Butters
Herb Butter
By Liz Alderson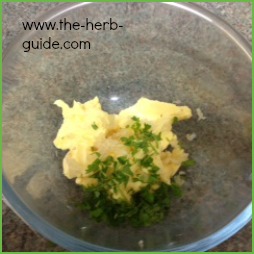 Making herb butter is a great way to lift your food. Great on plain grilled meat and fish or plainly cooked vegetables. Handy list of herbs and recommended quantities.
Prep Time: 5 minutes

Cook time: 0 minutes

Yield: 4

Main Ingredient: butter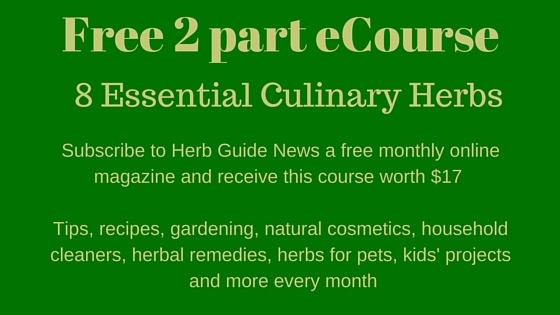 ---
I may receive a commission if you purchase something mentioned in this post. See more details here