Herb Roasted Vegetables
As an Amazon Associate I earn from qualifying purchases

A great herb roasted vegetables recipe here - so quick to put together.
It's a good idea to use it as a side dish with plain roasted or baked meat or fish.
If you have vegetarians to cater for, this would be a great dish - add some more varieties of vegetables - I would suggest fennel, small whole carrots (chantenay variety) eggplant (aubergine) 
Have a look round to see what vegetables would be suitable as roasted.
---
Herb Roasted Vegetables
2 tablespoons olive oil
2 red peppers
2 red onions
2 zucchini (courgettes)
4 tomatoes, quarterd
1 butternut squash
2 peeled and crushed garlic cloves
handful of chopped parsley mixed with basil, sage, thyme, dill depending on your taste

Your oven needs to be at 400F, Mark 6 gas 200C.
De-seed the peppers and cut into large chunks.
Cut the onions into similar sized wedges.
Slice the zucchini (courgettes) - about 1 inch chunks.
Chop butternut squash into similar sized pieces.
Put the oil into a roasting tray and add the garlic.
Tip the vegetables in and stir around to coat.
Roast for about 30 minutes until the vegetables are beginning to soften.
Sprinkle the herb mixture over and stir. Then cook for another 10 minutes or so.
You can use the oven for two things, so it's economical - also, you save time having to check for the vegetables to be ready, using pans on the stove top.
It is such a simple recipe, but so effective. I use it a lot - it gets a good variety of veg in us and it's no trouble to cook.

You can have roasted potatoes around your meat or bake them in their skins to go with this.
I sometimes add baby new potatoes to be roasted at the same time - put them into the dish for about 15 minutes, then add the rest and start the above timings from then.
Alternatively, par boil the potatoes for around 10 minutes, drain them and put in the dish at the same time. Coat them in the oil and cook alongside the other chopped veg - a true 'all in one'. 
Choose the herbs you like best to go with the parsley - dill for fish, sage for pork or chicken, thyme for lamb - your choice.

Where would you like to go next?
The Herb Guide

›
Herb Recipes
› Herb Roasted Vegetables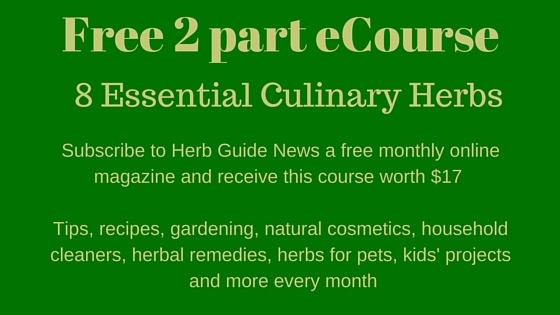 ---
Herb Roasted Vegetables
By Liz Alderson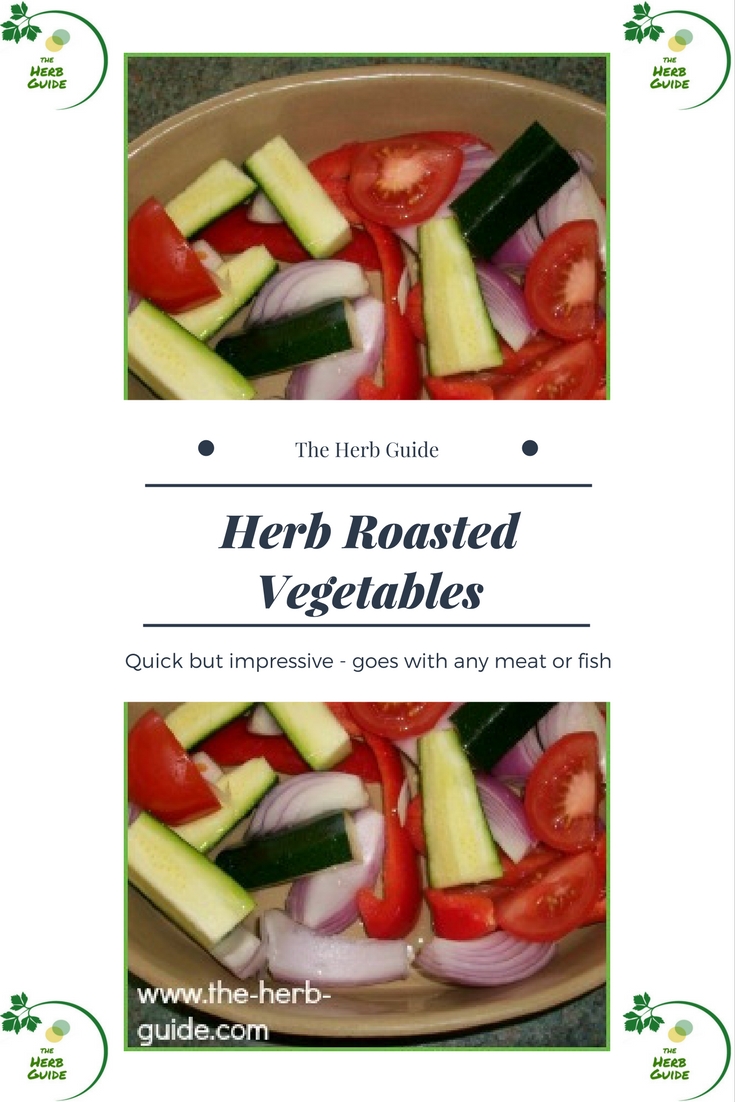 Such a versatile and simple to put together vegetable dish. Great with plain grilled meat or fish and ideal for vegetarians as a main. Put it together and it cooks itself but looks and tastes like you've spent hours in the kitchen.
Prep Time: 5 minutes

Cook time: 0 minutes

Yield: 4

Main Ingredient: mixed vegetables
I may receive a commission if you purchase something mentioned in this post. See more details here