Herb Roasted Chicken
As an Amazon Associate I earn from qualifying purchases

A very simple herb roasted chicken. Perfect for a mid week meal or a roast on a summer's day when it's too hot to be spending time in the kitchen.

This herb chicken recipe uses cream cheese, garlic and herbs - you could of course make it even easier by buying a ready made herb and garlic cheese.

It takes a few minutes to prepare and then you can leave it to cook itself.

Great to serve with some salad and maybe baked or new potatoes.
---

You can try a sample lesson to help you decide if the Herbal Academy of New England is the right choice for you - click the link below.
Preview Lesson from the Introductory Herbal Course
---
Herb Roasted Chicken
1 chicken around 3lb (1.5kg)
2/3 cup, 6 oz (150g) pack cream cheese
1 clove garlic - peeled and crushed
handful fresh chopped parsley
olive oil

Set the oven to 375F, 190c Gas Mk 5
Mix the cream cheese, garlic and parsley together.
Loosen the skin from the chicken - start at the neck end and work your fingers in to separate the skin from the meat.
Push the herby mixture into the cavity you've made under the skin - massage it down all the way to the legs.
Brush the  skin with olive oil and roast it for about 1 hour 45 minutes to 2 hours depending on the size.
You don't need to baste this - just let it cook.
If you like, scrub some large potatoes, dry and brush with oil, sprinkle with some sea salt and cook them alongside the chicken for the last hour or so - they should be ready about the same time. You'll have to assess them on their size - bigger ones taking longer obviously, but if they're not ready when the chicken comes out, you can always leave them for a bit longer while the meat rests. 
Leave the chicken to rest for about 20 minutes. This allows the meat to relax and the juices to reabsorb. I cover with a piece of aluminium foil to keep it hot. It won't lose much heat in 20 minutes, which gives you plenty of time to get stuff ready on the table.
Either carve it or cut it into pieces, spooning the juices over to keep it moist. 
You could just serve crusty bread and a salad with this if you prefer - it's perfect for a summer roast or a mid week meal.
There's bound to be some leftovers which you can use up in sandwiches, curries, soups, fajitas - the list is endless for uses for leftover chicken.
What would you like to see next?
Herb Roasted Chicken
By Liz Alderson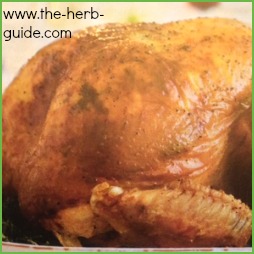 A herb roasted chicken is so easy to cook. It's perfect for a mid week meal when you can just add your seasonings and leave it to roast in the oven. Add some scrubbed potatoes at the same time and serve with a salad. You'll have enough time to get the kids homework done and then sit down to a leisurely meal
Prep Time: 10 minutes

Cook time: 90 minutes

Yield: 4+

Main Ingredient: chicken
I may receive a commission if you purchase something mentioned in this post. See more details here  This will not affect the amount you pay.