Herbs to go with Pork
'Herbs to go with Pork' is often a headline I see in my emails. 
Herbs enhance all foods and have many health benefits.
Some herbs go particularly well with certain foods and we're exploring which herbs go with pork here.
There's a very long list of course and you can use them in any way you think best. Some of them go with other foods - herbs aren't exclusive and they don't discriminate!
Some ways to use them are to marinade the pork in a mixture of wine, vinegar or lemon juice and a herb or combination of herbs from this list. If you're an experienced cook, you'll know what to do, but if you're not, then this information might as well be in a foreign language.
So - the list of herbs to go with pork is here in the graphic below - after that, there are links to recipes to help you decide which way YOU want to use herbs with pork.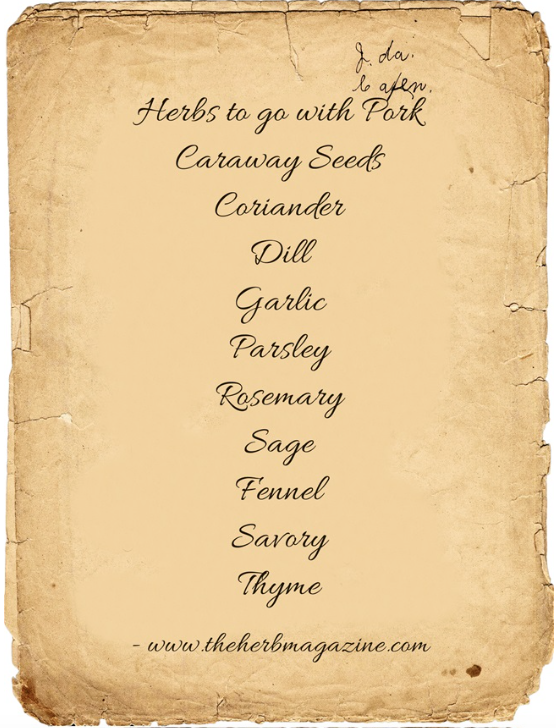 ---

You can try a sample lesson to help you decide if the Herbal Academy of New England is the right choice for you - click the link below.
Preview Lesson from the Introductory Herbal Course
---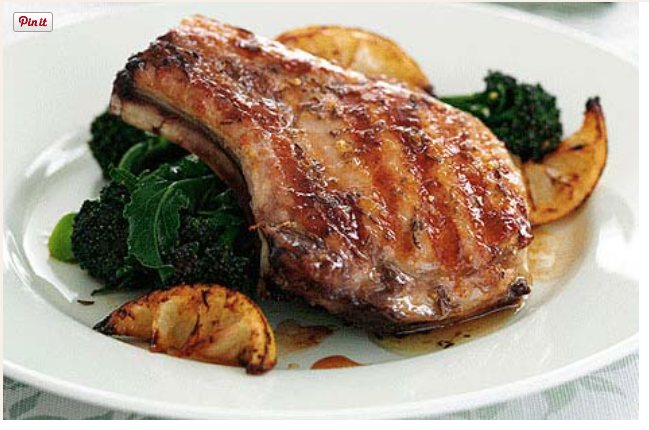 This Pork with Caraway Seeds is so simple and inexpensive.
The photo and recipe is from Tesco.  It takes about 30 minutes total to cook
It's a great mid week meal. The recipe is for two, but is easily increased for more.
---
A fabulous reference that will look great on your kitchen wall. Culinary Schools use these posters as a visual guide for their pupils.
Available at Amazon - click the photograph of the poster (affiliate)
---
Dill with Mustard Sauce - goes well with pork or fish (many herbs double up as enhancing other foods as well)
This is a really simple dressing. 
Prepare in advance and leave it to rest - whip it up just before you need it - either way works!
Recipe and photo from Eating Well
---
I don't think there's any food that doesn't benefit from garlic.
You will love this Pork in Garlic and Red Wine sauce from Pioneer Woman - fabulous photographs giving you step by step guidance.
Simple, tasty and a great way to liven up pork chops.
Photo and recipe PioneerWoman
---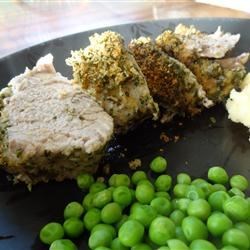 Parsley is another herb that goes with virtually anything.
AllRecipes have a fabulous Parsley and Parmesan Crusted Pork that has attracted four and five star reviews from testers - well worth a try.
Quite quick to prepare and ready in under an hour.
Photo and recipe AllRecipes
---
More herbs to go with pork
Another super quick meal to prepare and cook Pork Chops with a Rosemary Rub
It is a matter of chucking together a few ingredients and putting the mixture on your chops - you can either leave them to marinade or use them immediately.
Perfect for a mid week meal as it takes under an hour from start to finish and you can serve it with vegetables, salad, rice, noodles - your choice.
Recipe and photo Kitchn.com
---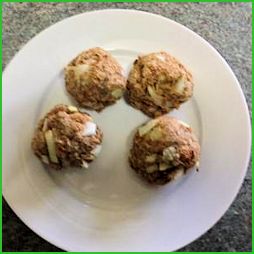 Once you learn how to do homemade stuffing, you'll never want to buy a packet mix again.
It's really economical and easy to make - when you've got leftover bread, just crumb it and freeze it and you'll always have the makings in stock.
Sage and Onion stuffing is the classic one to serve with roast pork - I like it with poultry too ;-) Click the photo for the recipe
---
This is a fabulous one pot Pork Chops with Fennel and Potatoes It's super simple and a great midweek meal as it needs minimal looking after once it's in the oven.
Personally, I would cook the pork chops a little longer than they say in the recipe. It is a hot oven, but even so, I like my pork well done.
Photo and recipe BBC Good Food Guide
---
There's not a lot of savory recipes - it's not a mainstream herb. 
However, this Pork Loin with Summer Savory and Bacon will just melt in the mouth.
Quick to make with a gorgeous sauce to pour over your side dishes.
Recipe and photo Food.com
---
Really succulent roasted pork loin.
The glaze is Thyme, Balsamic Vinegar and Dijon Mustard.
A great roast for the weekend or a midweek meal as there is little to do once you've prepared it - just time it and test that it's cooked!
Recipe and photo Kitchen Confidante

If you've enjoyed these herbs to go with pork, click on the link below to see more herbs and their uses. 
Herbs to Go With Pork
---
I may receive a commission if you purchase something mentioned in this post. See more details here  This will not affect the amount you pay.