How to Make Garlic Butter
How to Make Garlic Butter
As an Amazon Associate I earn from qualifying purchases

This recipe for how to make garlic butter is very simple and straightforward. 
The tutorial will take you step by step to making perfect garlic butter.
Put 4 oz/ 1 cup (100g) of softened butter into a mixing bowl.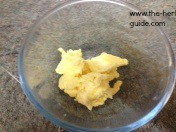 ---

You can try a sample lesson to help you decide if the Herbal Academy of New England is the right choice for you - click the link below.
Preview Lesson from the Introductory Herbal Course
---
---
Take your garlic bulb and break off 3 cloves.
Remove the papery skin from one side and just pull them away.
---
Here are the cloves but they still have skin on.
Cut the bottom and peel away the skin.
I use a garlic crusher to mince it, but you could chop them with a knife if you prefer.
---
Here they are with the skin off.You just pop a garlic clove in the 'jaws' and squeeze the handles together.You will need to scrape the remnants away to add to the mixture.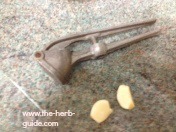 ---
You'll need a few sprigs of fresh parsley.
About 5 or 6 stems will do.
If you don't have fresh, then a tablespoon of dried will be fine.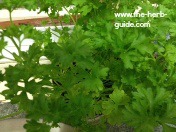 ---
This is my herb chopper.
I find it much better than using a knife - it is double bladed and you just rock the blade onto the wodden block which has a dip in the middle.

---
Here we are, perfect finely chopped parsley in seconds!
I do use the stems as well - it all tastes the same and makes for less waste.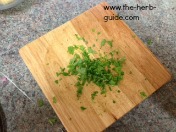 ---
Tip the crushed garlic and chopped parsley into the butter.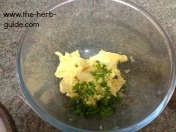 ---
I use an ordinary table fork, just using the prongs to mix the garlic into the butter.
It only takes a few seconds if it's soft.
It is possible to use your usual spread instead of butter if you prefer.

---
Tip the garlic butter out onto a square of greaseproof paper.
You could use aluminium  (tin foil) if you like.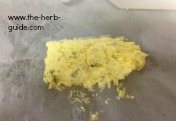 ---
Wrap the garlic butter with the greaseproof and roll into a sausage shape.
If you want to use it straight away you can or chill in the fridge until you want to use it.

---
You can store it in the fridge until the date on the butter you used.
If you want to freeze it, then I suggest after you have chilled it, you slice it into discs and pop into a freezer bag.
You can keep it for 3 months and use it to make garlic bread or just liven up plain grilled fish or steaks.

Now you know how to make garlic butter, try using it in these recipes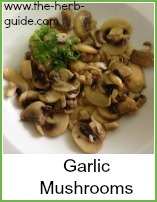 Garlic Mushrooms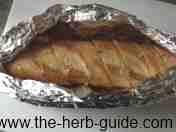 Cheese Garlic Bread
I may receive a commission if you purchase something mentioned in this post. See more details here  This will not affect the amount you pay.