Rosemary Christmas Tree
A Rosemary Christmas Tree is a good idea if you have limited indoor space or want a centrepiece for a large dining table.
The smell is divine. A lovely, piney aroma will permeate your home for Christmas.
Garden centers will sell them ready shaped and possibly decorated around December, but you can easily make your own.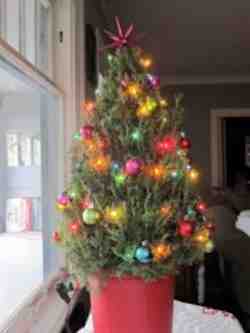 ---

You can try a sample lesson to help you decide if the Herbal Academy of New England is the right choice for you - click the link below.
Preview Lesson from the Introductory Herbal Course
---
You will need to get a rosemary shrub at some point, buy it in the Spring or take one out of your garden - make sure it's one with an upright growth habit as some rosemary shrubs cascade - very pretty, but not the right material for an indoor christmas tree.
Put it in a large pot.
If you can mix the potting compost with some small vermiculite or similar, it will keep the plant well drained.
Rosemary likes water, but not to sit in. It can't 'breathe' if it's waterlogged around its roots.
A good idea is to put gravel in the base of a dish then put the pot with the rosemary christmas tree on that. When you water, the excess will drain away and sit in the gravel, not in the bottom of the pot.
So, when you have a rosemary shrub the size of the tree you want, trim it into a cone shape.
Just snip away, although it's a woody shrub, you can easily trim it with scissors.
I suggest you strip the leaves off the trimmings and either dry them or freeze them for culinary use - waste not want not! 
When you have the shape you want, then you can decorate it.
Try to find some small decorations, but if you can't, then the kids can make some.
Get them to spray some small pasta bows in gold or silver, then you can tie these on with some lurex gold or silver thread.
Use some fine tinsel to drape as a garland around the tree.
If you can't find a small star for the top, then make one out of cardboard and spray it to match the rest of your decorations.
If you can't draw a star shape, then just draw two triangles and cross them in the middle to make a 6 pointed star.
What do I do with my Rosemary Christmas Tree for the rest of the year?
After the holiday season is over, you'll need to keep the plant indoors until the spring, when you can gradually introduce it back to outdoors - that is if you live in the Northern Hemisphere.  Your rosemary tree will have become acclimatised to the indoors and needs weaning back to the outdoors. Once the weather warms up, you can being to move it outside. If it shows signs of distress, wilting or dying back, then move it to a cool indoor space until the weather is warmer. 
Rosemary loves full sun, so keep it in its pot in a sunny place to help it recuperate from its time indoors.  You can keep it trimmed in its cone shape all year, ready to come back indoors for Christmas.  The trimmings can be used either for, cosmetic, culinary or medicinal purposes.
Where would you like to go next?
I may receive a commission if you purchase something mentioned in this post. See more details here  This will not affect the amount you pay.