Simmering Potpourri
When you make simmering potpourri, you've got to remember to keep checking the pot on the stove top in case it boils dry.
Take the hassle away by making it in the crockpot or slow cooker.
This DIY potpourri takes seconds to put together and you can give yourself the smell of fall or Christmas at the drop of a hat!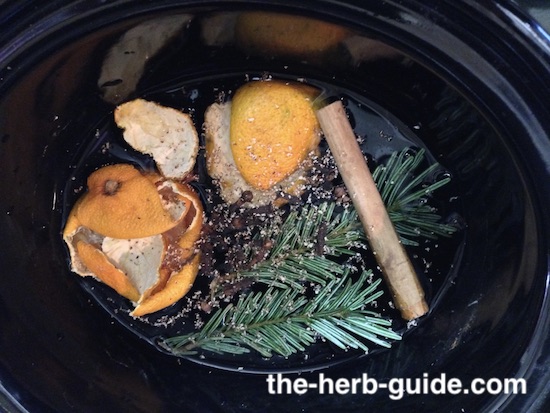 ---

You can try a sample lesson to help you decide if the Herbal Academy of New England is the right choice for you - click the link below.
Preview Lesson from the Introductory Herbal Course
---
Simmering Potpourri
It is as simple as this:
2 Cups at least of hot water in your crockpot depending on the size
Add your ingredients
Turn it on
Stir it and check from time to time to make sure there's plenty of water and release the aromas.
Watch this really short video which will show you how quick and easy it is to make. 
This is a great homemade herb gift idea as well. 
Get a selection of dried items from this list and write out the recipe on a tag. Put them into a pretty bag, tie the label on and give it to a friend or relative as a Christmas gift - makes a great idea for a homemade Thanksgiving Gift too - pumpkin spice, nutmeg, cloves and cinnamon. 
Combinations to try:
apple, cinnamon, cloves
lemon, rosemary, vanilla
pine, orange, nutmeg, cinnamon, cloves
lemon, orange, bay, cinnamon, cloves
lavender, nutmeg, cloves, cardamom
orange, ginger, cinnamon, cloves
lemon, rosemary
cranberries, pine, cinnamon, cloves
pumpkin spice, nutmeg, cloves, cinnamon
You can use fresh or dried herbs and fruit. I often top up during the week with ground cinnamon, ginger or cloves. It gives an instant 'hit' of aroma. 
You can have the slow cooker potpourri switched on for a few hours a day and then let it cool. Use it for up to a week - exercise judgement as to how long to keep it going. If it stops smelling nice, then tip it away and start again. You don't need to change it every day, so it's not vastly expensive. You'll also be able to use things from your garden and store cupboards. 
Just because you haven't got one of these ingredients, don't let it stop you having a go. Either leave it out or substitute something else.
There's no hard and fast rules about what you can use - it's your house, your crockpot!
For instance, at Christmas, think of the smells that bring back memories for you - making the Christmas Cake, Mince Pies or Christmas Pudding. What spices do you put in there?
If you've got any suggestions for combinations of herbs and spices, do drop me a line or leave a comment in the Facebook box at the bottom.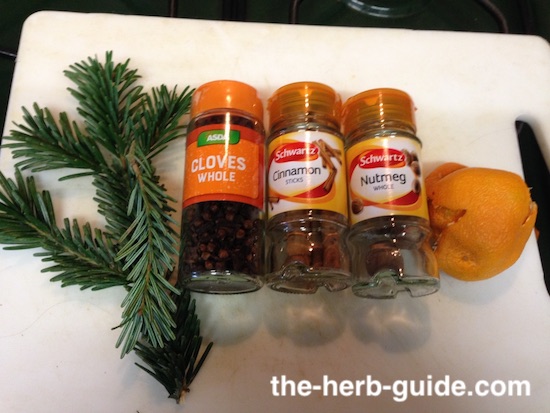 I may receive a commission if you purchase something mentioned in this post. See more details here  This will not affect the amount you pay.