Thin Mint Cookie Recipe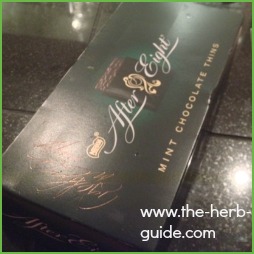 A thin mint cookie recipe that is really simple to make.
They would be good with a cup of coffee or as a snack or in your lunch box.
You can use this chocolate chip cookie recipe or your own cookie recipe.
This is the cookie recipe that escapes you when you're looking - you know they exist - you've tasted one and the combination of mint and chocolate haunt you.
---

You can try a sample lesson to help you decide if the Herbal Academy of New England is the right choice for you - click the link below.
Preview Lesson from the Introductory Herbal Course
---
Thin Mint Cookie Recipe
2  cups chocolate chips
6 T all purpose flour
1/2 teaspoon baking powder
3/4 cup sugar
2 large eggs
2 tablespoons dark corn syrup
24 thin mints

Heat the oven to gas mark 4, 350F, 180C.
Take your baking trays and either line them with parchment or brush melted butter or oil onto them.
Combine the flour with the baking powder.
Take another bowl and beat the eggs, sugar and corn syrup. Use an electric whisk if you have one. The resulting mix should be quite thick.

Put between half and two thirds of the chips into a glass bowl and set it over a pan of simmering water to melt. You have to be really careful here as you could easily scald yourself, so it's not a kid's recipe.
Stir the chocolate to help it melt evenly.

Gradually incorporate the melted chocolate, then stir in the flour and baking powder.
Pop the rest of the chips into the mix and stir so they are mixed through evenly.
Drop spoons of batter onto your baking tray(s). Leave space between as they will expand as they cook. If you only have one tray, you'll have to cook in batches of about 8.

The cookies will have a cracked top when they're cooked - it should take around 15 minutes.
As you bring them out of the oven, put them onto a wire rack and at this point, put your chocolate mint thin on top - this will melt into the cracks and be really scrummy!

These are really easy to make - it is your regular cookie recipe with a mint thin melted on top.
Cooks Tips
Mint Thins

In the UK, we have the famous After Eight Mints, but most supermarkets do their own brand which will be much less expensive. This is literally a chocolate chip cookie recipe with a mint thin melted on top - you can add some mint essence to the mixture if you'd like your cookies more 'minty'.

What would you like to see next?
I may receive a commission if you purchase something mentioned in this post. See more details here  This will not affect the amount you pay.