Chives Picture

As an Amazon Associate I earn from qualifying purchases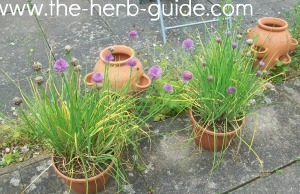 This chives picture shows a lovely lush green growth of the herb and will help you identify it.
They are very useful, having a delicate onion flavor which doesn't overwhelm the taste of other foods.
You use them by simply snipping the long leaves into pieces with scissors or chopping with a knife.
---

You can try a sample lesson to help you decide if the Herbal Academy of New England is the right choice for you - click the link below.
Preview Lesson from the Introductory Herbal Course
---
This picture shows the chives with their purple ball shaped flowers - some people use them to decorate their food.
The picture also shows how decorative they are in the garden - a really lovely display in a seating area - imagine being sat in the garden surrounded by pots of herbs.
Chives picture without the purple flowers
The chives look very much like grass before they flower and the leaves are like tubes. They are of the Allium family, like leeks, onions and garlic and have a very faint onion taste and smell. You can get garlic chives too. The individual blades look like miniature spring onions (scallions) when you pull them up from the root. 
Mix them in with cream cheese to give a delicate onion flavour - use this to make a sandwich or celery boats where you cut 2 inch lenghts of celery and fill them with the cream cheese mixture - makes a good buffet finger food.
Snip a few over roasted vegetables for the last 5 or 10 minutes of cooking to add some extra flavour.
Chives are very easy to grow.
You can grow them from seed or beg a few bulbs from a fellow gardener whose clump has got overcrowded.
The chives in this picture (above) were a pot I bought and split into 2 - they've been growing about 3 years.
The chives picture below is garlic chives.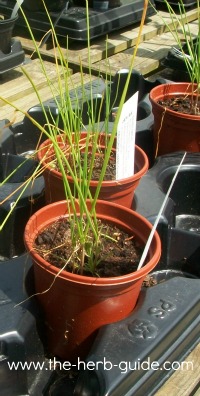 If your clump of chives has become weed infested, then you need to dig it up and tease the bulbs apart.
Do this gently, removing the weeds as you go.
You then replant the chives in clumps, firm down the soil with your foot and water well.
They are hardy perennials and will come up year after year.
Divide them when they get overcrowded - you can either replant them in your own garden or pot them up and either give them away or sell them.
See growing herbs for profit for more ideas of what herbs you could grow for general sale.
Where would you like to go next?
I may receive a commission if you purchase something mentioned in this post. See more details here  This will not affect the amount you pay.