Classic Basil Pesto

As an Amazon Associate I earn from qualifying purchases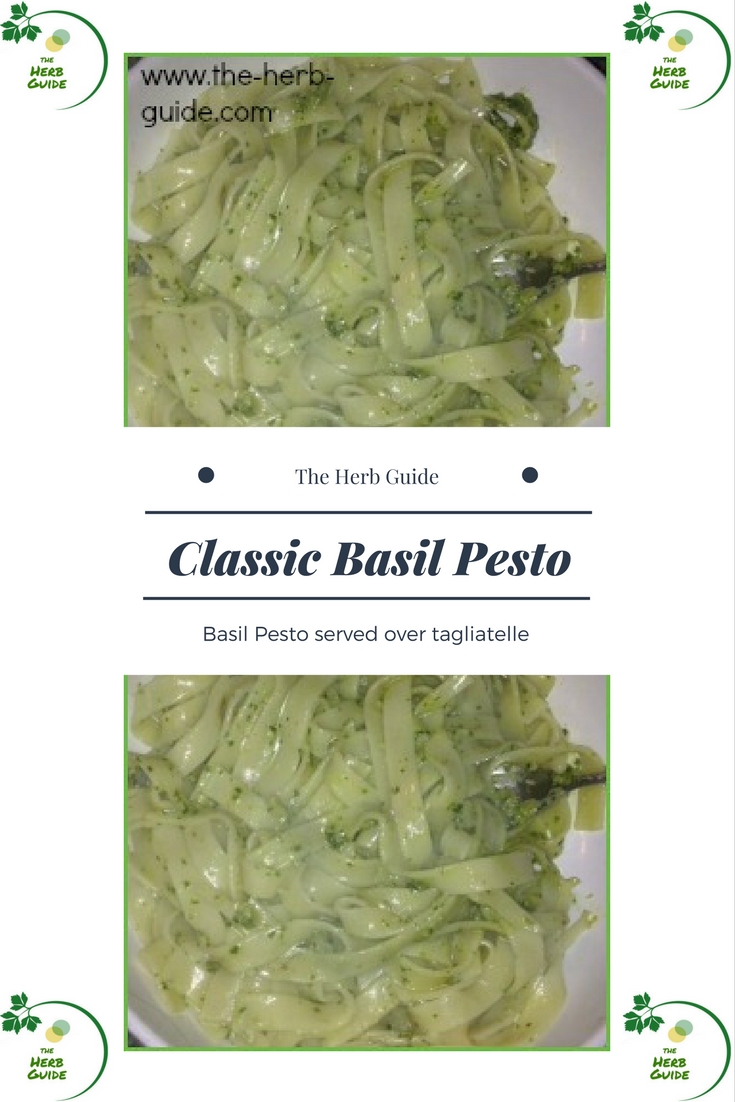 Traditionally, a classic basil pesto includes pine nuts and hard cheese like parmigiana-reggiano and pecorino Romano, Tuscano or Sardano.
You can use almonds or walnuts if you prefer.
The classic way to serve basil pesto is over pasta - fettucine or spaghetti are the main choices - I've used tagliettelle in the photo, but the point is, to have long strands which can be coated all over in this classic sauce.

---


Basil Pesto
3 cloves fresh garlic
1  cups fresh basil, rinsed, dry, loosely packed
1/2 cup grated parmesan

1/4 cup pine nuts or walnuts chopped
1/4 cup extra-virgin olive oil
sea salt and black pepper to taste

Imperial and metric
3 cloves fresh garlic
good handful fresh basil
2 oz/50g parmesan
1 oz/25 g pine nuts, walnuts
5fl oz/150 ml extra-virgin olive oil

To make the pesto:

Add the garlic, basil, parmesan, nuts and half the olive oil to the bowl of your food processor.

Process until the herbs and garlic are chopped up a bit.

With your machine running, add the rest of the olive oil in a smooth gradual stream.

This is easily done through the small circular port in the lid of your food processor's bowl.

Process until a smooth paste forms.

This will make a little over one cup of pesto.

If the pesto is a bit thick add a little extra olive oil one teaspoon at a time and process the paste until you are happy with the consistency.

You can mix this straight into just drained pasta - the pesto will melt and cling to every strand if you mix it in thoroughly.
I find it to be quite economical. If I have a tomato based sauce on my pasta, I tend to go very heavy with the cheese but I don't have extra with basil pesto as if you coat the pasta evenly, you get the taste with every mouthful!

What would you like to see next?
The Herb Guide

›
Herb Recipes
› Classic Basil Pesto
Classic Basil Pesto
By Liz Alderson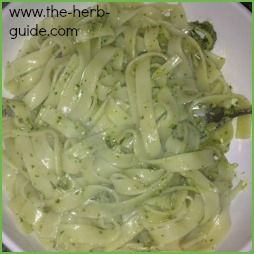 Superb basil pesto recipe that is very easy to make. Gorgeous with some hot pasta.
Prep Time: 10 minutes

Cook time: 0 minutes

Yield: 4

Main Ingredient: basil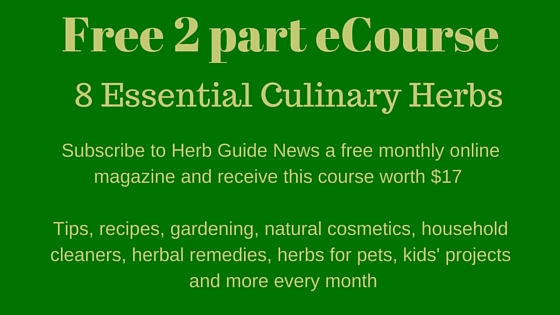 ---
I may receive a commission if you purchase something mentioned in this post. See more details here