Classic Basil Pesto

As an Amazon Associate I earn from qualifying purchases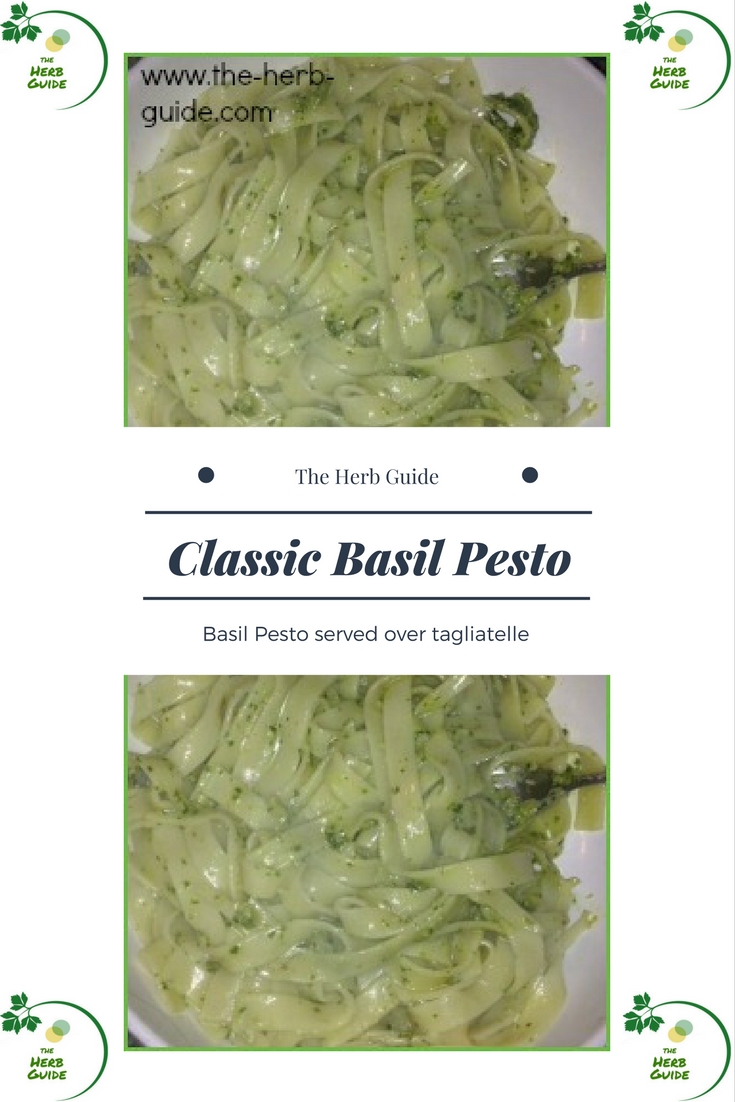 Traditionally, a classic basil pesto includes pine nuts and hard cheese like parmigiana-reggiano and pecorino Romano, Tuscano or Sardano.
You can use almonds or walnuts if you prefer.
The classic way to serve basil pesto is over pasta - fettucine or spaghetti are the main choices - I've used tagliettelle in the photo, but the point is, to have long strands which can be coated all over in this classic sauce.
There's no pasta police watching, so it's entirely up to you which you serve it with :-) but a long pasta gets coated better and evenly, shells carry little pockets of sauce in them and give you a flavor hit! 
---

You can try a sample lesson to help you decide if the Herbal Academy of New England is the right choice for you - click the link below.
Preview Lesson from the Introductory Herbal Course
---


Basil Pesto
3 cloves fresh garlic
1  cups fresh basil, rinsed, dry, loosely packed
1/2 cup grated parmesan

1/4 cup pine nuts or walnuts chopped
1/4 cup extra-virgin olive oil
sea salt and black pepper to taste

Imperial and metric
3 cloves fresh garlic
good handful fresh basil
2 oz/50g parmesan
1 oz/25 g pine nuts, walnuts
5fl oz/150 ml extra-virgin olive oil

To make the pesto:

Add the garlic, basil, parmesan, nuts and half the olive oil to the bowl of your food processor.

Process until the herbs and garlic are chopped up a bit.

With your machine running, add the rest of the olive oil in a smooth gradual stream.

This is easily done through the small circular port in the lid of your food processor's bowl.

Process until a smooth paste forms.

This will make a little over one cup of pesto which is plenty for four servings of pasta. 

If the pesto is a bit thick add a little extra olive oil one teaspoon at a time and process the paste until you are happy with the consistency.

You mix this straight into just drained pasta - the pesto will melt and cling to every strand if you mix it in thoroughly.
I find it to be quite economical. If I have a tomato based sauce on my pasta, I tend to go very heavy with the cheese but I don't have extra with basil pesto as if you coat the pasta evenly, you get the taste with every mouthful!

Herb Tips
Basil Pesto Ingredients
When I go to buy pine nuts for this recipe, I wince at the price of them - then I remind myself, that I need only one ounce to make four servings and put them in my basket...
What would you like to see next?
Classic Basil Pesto
By Liz Alderson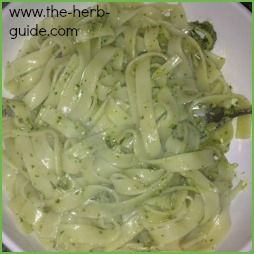 Superb basil pesto recipe that is very easy to make. Gorgeous with some hot pasta.
Prep Time: 10 minutes

Cook time: 0 minutes

Yield: 4

Main Ingredient: basil
I may receive a commission if you purchase something mentioned in this post. See more details here  This will not affect the amount you pay.