Garlic Prawn Recipe
As an Amazon Associate I earn from qualifying purchases

Cooks Tips
Garlic Prawn Recipe 

Garlic prawn recipe - or is it shrimp?
There's a confusion over prawn or shrimp - in the UK shrimp are small and prawns are large - so we have Dublin Bay Prawns, King Prawns etc - shrimp are the little things that you add to curries and suchlike. 
This recipe is for the large version - although you could quite easily use a bag of UK shrimp in the sauce. 
In the US, shrimp are large - New Zealand use the same terminology as the UK and Canada use both interchangeably. 
Whatever you call them, they taste fabulous and this recipe is scrummy (scrumptious!). 
This garlic prawn recipe is very quick to cook.
It makes an ideal starter or lunch with the addition of some crusty bread or a baked potato.
In the US, you would use 'shrimp' for this recipe which are the same size as the UK 'prawn'.
If you buy raw peeled shrimp, they will be blue in color when you start - they turn pink as you cook them.
Don't cook them for too long as they have a tendency to get tough with over cooking. When they're pink all the way through, then they're done.
---

You can try a sample lesson to help you decide if the Herbal Academy of New England is the right choice for you - click the link below.
Preview Lesson from the Introductory Herbal Course
---
Garlic Prawns
8 large raw prawns - peeled
seasoned flour
3 tablespoons olive oil
2 cloves garlic - peeled and crushed
1 tablespoon chopped basil
1 glass dry white wine
large knob unsalted butter

Wash and dry the prawns, then dip in the flour, shaking the excess off.
In a large pan, heat the oil and fry the garlic for a few minutes until softened.
Add the prawns and cook for about 2 minutes either side.
They should be bright pink when cooked.
Remove the prawns and keep warm.
Add the basil and wine and boil rapidly to reduce the sauce.
Whisk in the knob of butter whilst the sauce bubbles - this should thicken it.
Pour over the prawns and serve immediately.
The sauce from it is too good to waste, so provide some crusty bread to mop up the juices.
If you're preparing this recipe as a prawn appetizer, then provide your guests with bowls of hot water and lemon slices for them to wash their fingers after eating.
You need to peel the raw prawn, but you can leave the tails on.
For the seasoned flour, put 2 tablespoons of flour in a poly bag and season with pepper - shake the bag to mix and then use this flour to dip the prawns in prior to frying.
Where would you like to go next?
Garlic Prawn Recipe
By Liz Alderson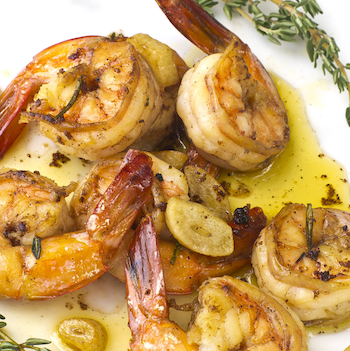 Super quick garlic shrimp recipe - a perfect appetiser or luxury lunch. Serve with bread to mop up all the buttery juices. time: 10 minutes

Yield: 4

Main Ingredient: shrimp, garlic, butter
I may receive a commission if you purchase something mentioned in this post. See more details here  This will not affect the amount you pay.