Garlic Chicken Pasta Recipe
Garlic Chicken Pasta Recipe
This is a quick and easy garlic chicken pasta recipe - use leftover cooked chicken from your roast to give you a second family meal.
It's amazing how economical a chicken becomes if you have a roast dinner off it one day and then make a second meal.
If you boil the carcass after you've finished you can make a chicken stew and add some herby dumplings to make a third meal! 
You can use fresh chicken if you like - instructions at the bottom of the recipe.
---

You can try a sample lesson to help you decide if the Herbal Academy of New England is the right choice for you - click the link below.
Preview Lesson from the Introductory Herbal Course
---
Garlic Chicken Pasta
1lb (500g) pasta, spaghetti or linguine
cooked chicken pieces - at least 4oz but more if you have it
1 tablespoon olive oil
2 cloves garlic peeled and crushed
3 tablespoons cream, yoghurt or creme fraiche
large handful of basil - chopped
fresh ground black pepper
large handful of grated parmesan plus more to serve

Cook the pasta in a large pan according to the instructions on the pack.
Cook the garlic in the oil until soft - about 2 or 3 minutes.
Tear the chicken into very small pieces and add to the garlic. Fry for 1 or 2 minutes to heat through.
Drain the pasta and reserve some cooking water - about a cup.
Return the pasta to the large pan.
Tip in the cooked garlic and chicken mixture.
Stir in the cream, basil and parmesan.
Mix the whole together with wooden tongs or a spoon - if it looks a bit dry, then stir in some of the cooking water to make a creamy sauce that coats the pasta. Just add a tablespoon or so at a time until you get the consistency you want.
Serve immediately into hot bowls with extra parmesan if you like.
I like some garlic bread to serve too.
If you want to use fresh chicken in this recipe, then one chicken breast would be enough - chop very small and cook for about 5 minutes with the garlic instead of just 1 or 2 minutes to warm through.
Where would you like to go next?
I may receive a commission if you purchase something mentioned in this post. See more details here  This will not affect the amount you pay. 

Garlic Chicken Pasta Recipe
By Liz Alderson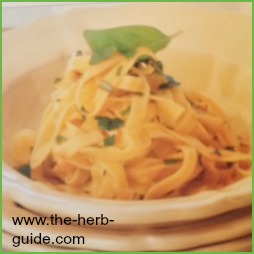 This simple chicken pasta recipe is a great way of getting a second meal out of leftover roast chicken. You'll be amazed at how tasty it is.
Prep Time: 10 minutes

Cook time: 10 minutes

Yield: 4

Main Ingredient: pasta, chicken