Herb Butter
Using Herb Butter
Well, obvious use is putting it onto plain grilled meat or fish to lift the flavor.
It's simple enough to make herb butter and the photo on the right here shows you how - simply add your chopped herb to butter and mix together. 
Add some to boiled vegetables to enhance the flavor.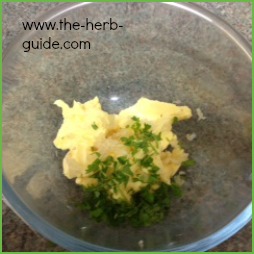 ---

You can try a sample lesson to help you decide if the Herbal Academy of New England is the right choice for you - click the link below.
Preview Lesson from the Introductory Herbal Course
---
I also make a quick herb bread this way:-
Slice a french stick. Toast one side under the grill - then spread some herb butter on the untoasted side and pop under the grill until browned.
This saves switching on the oven and you can make as much or as little as you need at a time.
It's also a brilliant way of using up older french bread that has gone soggy.
Where vegetables, meat or fish are softened by frying, I will sometimes use herb butter for that with a teaspoon of oil.
Try a different herb butter to go with specific foods
Basil Butter
Basil is excellent with tomatoes.
Put some on pasta before adding the sauce - or use it to soften some ripe tomatoes to pour over the pasta.
Make basil herb bread to accompany tomato based soups or pea soup.
Butter bread for cream cheese sandwiches or salad sandwiches.
Melt it on shellfish, sole or mackerel.
Melt some on grilled tomatoes or plain chicken.
Chive Butter
Chives have a very delicate onion flavour and here are some of the ways I would use it.
Melted on hot asparagus.
Melt on new potatoes. Melt on an omelette or use it to make scrambled egg.
Make chive herb bread to accompany asparagus, potato, cauliflower based soups.
Butter bread for cheese sandwiches or egg sandwiches.
Melt on plain grilled meats or fish of any type.
Dill Butter
Dill has a 'sharp' flavour and will make bland food much more interesting.
Excellent with advocado - so try and incorporate it somehow - maybe dill herb bread with a salad or over some hot new potatoes to serve with the salad.
Herb bread with fish soups and any chicken, tomato, or 'pulse' (beans, peas etc) based soups.
Melt on asparagus.
Melt on potatoes or vegetables accompanying fish dishes.
Melt on plain grilled halibut, trout, mackerel, snails - most fish will benefit from dill herb butter.
Use it to rub the chicken skin prior to roasting - forget about cholesterol - apply 80/20 - eat healthily for 80% of the time :-)
Garlic Butter
Well - what isn't garlic good for? It's anti-social I suppose - that's its downside - it smells!
It's sometimes thought that adding parsley takes away the smell - but I've never had the 'guts' to ask anybody :-)
So - the obvious use is to make garlic bread with it - fantastic - and of course, that goes with just about anything.
Pasta dishes are excellent with garlic bread.
Melt it on plain grilled fish or meat.
Melt it on potatoes or plain vegetables.
It may be a bit too strong for the delicate flavour of asparagus - I wouldn't bother personally.
Wonderful on hot shrimps or prawns.
Melt over grilled lobster.
Melt over a mixed shellfish dish - eg mussels, shrimp etc.
Oh my goodness - I could go on and on...
Mint Butter
Lovely melted on new potatoes or peas.
Carrots, courgettes, cabbage, cauliflower and green beans benefit from the mint flavour.
Try minty herb bread with pea soup.
On any plain grilled lamb cuts and the vegetables served with lamb.
Sausages - plain grilled sausages are lovely with mint butter on them.
Parsley Herb Butter
I can't think of a savoury food that wouldn't benefit from the addition of parsley butter.
You can take everything that's listed here and add some...
So, use it to make herb bread and put it to melt on any plain cooked meat, fish or vegetable.
Rosemary Herb Butter
Very strong, distinctive flavour, so use with caution.
Butter bread for ham sandwiches.
Use to make plain, cheese or ham omelettes - melt the butter in the pan before adding your eggs.
Rosemary herb bread with strong soups - eg minestrone, ham and pea, turtle, meat or game.
Melted onto plain game, pork or strong flavoured fish like halibut, eel or salmon.
Garnish vegetables and potatoes served with game, duck, rabbit etc.
Good melted on mushrooms - or use to gently cook them - and baked potatoes.
Try using it in the pre-cooking stage of a risotto - to soften the onion and coat the rice.
Sage Herb Butter
Another strong flavoured herb and should be used with caution.
Use as a butter spread for cheese sandwiches.
Use as the butter to make a cheese omelette.
Sage herb bread with fish soups and beef or lamb stews.
Melt some on strong flavoured fish such as eel, halibut and all fatty fish.
Use on plain grilled pork and the vegetables that accompany your pork meal.
Thyme Herb Butter
Thyme is a herb that aids digestion of fats, so it is very useful.
Make a thyme herb bread to accompany shellfish salads - crab and mussels - try it with moules mariniere.
Use to butter bread for a strong cheese sandwich.
Herb bread for tomato, minestrone or pea soup.
On plainly cooked lamb, mutton, pork or sausages or on the vegetables that accompany those meats.
Good to rub a chicken prior to roasting.
Try frying liver in it - very tasty - the pan juices will be wonderful.
Where would you like to go next?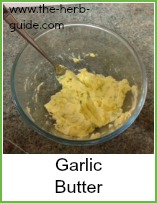 Garlic Butter
I may receive a commission if you purchase something mentioned in this post. See more details here  This will not affect the amount you pay.