Mint Pesto Recipe
As an Amazon Associate I earn from qualifying purchases

This mint pesto recipe is simplicity itself.
Pesto is merely an italian word for pounding or crushing - this pesto recipe is made in a food processor.
I like to use a hand blender - it saves an awful lot of washing up - I hate washing up :-)
It is different to a 'coulis' in that it's normally savoury and served hot.
Chopped mint blackens quite quickly, so don't prepare this pesto too much in advance. It's OK to make it just as you begin to cook your pasta, but don't do it any earlier than that.

---

You can try a sample lesson to help you decide if the Herbal Academy of New England is the right choice for you - click the link below.
Preview Lesson from the Introductory Herbal Course
---
Mint Pesto with Asparagus and Pasta
a large handful of stripped mint leaves
8 oz (250g) 2 Cups ricotta cheese
2 oz (50g) 1/2 Cup grated fresh parmesan
1lb (400g) taglietelle, linguine or spaghetti

chopped fresh asparagus - any amount you like

To Make the Pesto:
Blend together the mint and cheeses - use a food processor or a stick blender if you prefer. Season to taste with fresh ground black pepper.
Boil the pasta according to the instructions and for the last 3 minutes of cooking, drop in the chopped asparagus.
Take 4 tablespoons of cooking liquid out of the pan and reserve.
Then drain the pasta and asparagus.
Return it to the pan with the reserved cooking liquid and the mint pesto.
The reserved pasta cooking water slackens off the mint pesto so it will coat the spaghetti more easily.
Stir it in quickly so it doesn't lose to much heat, divide between four plates and serve with some more grated parmesan.
It's a refreshing change from basil pesto and is good mixed into hot cooked pasta.
This recipe does not use oil - you are using ricotta which gives a lighter taste. It will not keep as long as one made with olive oil - however, as the mint will blacken, you won't be able to make this up in advance.
It is a super quick meal though - you make the pesto while the pasta is cooking - and hey p(r)esto!! a meal on the table in around 10 minutes!
I know that joke wasn't really very funny, but it made me laugh :-)
Where would you like to go next?
Mint Pesto Recipe
By Liz Alderson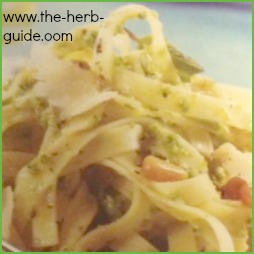 Superb mint pesto recipe that is very easy to make.. Gorgeous with some hot pasta.
Prep Time: 10 minutes

Cook time: 0 minutes

Yield: 4

Main Ingredient: mint
I may receive a commission if you purchase something mentioned in this post. See more details here  This will not affect the amount you pay.